Hageman Lecturer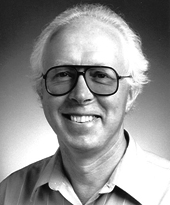 Dr. Maarten J. Chrispeels
Division of Biological Sciences
University of California - San Diego
April 15-16, 1999
Lecture: "Aquaporins: Their Roles in Plant Growth and Development"
Colloquium: "The Use of Lectins and Enzyme Inhibitors For Genetic Engineering"
About the speaker
Maarten J. Chrispeels obtained his first degree in Agricultural Engineering at The State University, Ghent, Belgium. He then received a Ph.D. in Agronomy with John Hanson at the University of Illinois, Urbana. Following post-doctoral experience with J.E. Varner, he became a faculty member in the Department of Biology at UCSD in La Jolla, where he has remained since 1967. As a long-time member of the American Society of Plant Physiologists, he has served on the editorial board, as an associate editor and, since 1992, as Editor-in-Chief of the journal, Plant Physiology. Dr. Chrispeels is a member of the National Academy of Sciences and the Presidential Scientific Advisory Commission. In 1996 he received the Stephen Hales Prize (ASPP) for his innovative research.
Throughout his career Professor Chrispeels has conducted fundamental research into agriculturally significant problems. With J.E. Varner he studied the response of barley aleurone cells to gibberellic acid to produce, de novo, ?-amylase. Recently his group identified the gene for an ?-amylase inhibitor that confers insect resistance in seeds. He continues to work on plant defense proteins and is cloning insect ?-amylase genes.
Much of Dr. Chrispeels' research has focussed on difficult problems of functions that are essential for plant growth and development including cell walls, vacuolar proteins and complex oligosaccharides associated with those glycoproteins. Several seed glycoproteins are important energy stores that must be degraded during germination; these may also serve as defenses against insects and pathogens. His lab has done extensive work on phaseolin and phytohemagglutinin of common bean and concanavalin A of Jackbean. Recent studies have involved a yeast expression system and transgenic plants containing phytohemagglutinin and ?-amylase inhibitor.
Professor Chrispeels has served as chair of a Gordon conference on plant molecular biology and organized the first US-Mexico symposium on plant biotechnology. His work with lectins and insect resistance genes has many obvious, and some less obvious, implications for agricultural biotechnology which he will discuss during the colloquium.
A particularly exciting finding in Professor Chrispeels' laboratory was the identification of certain vacuolar membrane proteins as members of the family of major intrinsic proteins (MIPS) and characterization of their function as water channel proteins (aquaporins). More recently aquaporins have been shown to be present in the plasma membrane also. It thus becomes apparent that water movement in plants can be actively controlled and is not dependent on passive diffusion through membranes.
There are more than 20 members of the aquaporin gene family, with different tissue localizations. Some are found at high levels in root tips and are likely essential for rapid osmotic adjustment during nutrient uptake. The roles of many others await further study. Aquaporins will be the subject of Professor Chrispeels' formal lecture.