August 15, 2017
The 2017 Movement Challenge is here
Join your friends and co-workers for the 2017 Movement Challenge! The Movement Challenge is a departmental competition to be the most active department. Employees within departments all over K-State are uniting to push their department to be the most active. Departments can work to be named the most active department based on highest participation or by highest activity.
You don't need to sign up to participate. However, by signing up you are making a commitment to yourself to focus on your physical well-being and to your department to come out on top as the departmental winner.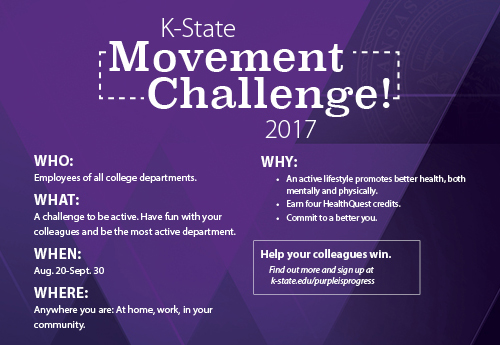 Starting is easy. Just track your movement and log activity in the eReport that will be available each week on the Live Your Best, #PurpleIsProgress website. The eReport also will be sent to your K-State email at the beginning of each week. Human Capital Services listened to feedback from last year and the eReport will be available to enter activity throughout the challenge. However, in order to be reported on the departmental leader board each week, activity must be entered by noon on Tuesday following the close of the week.
Several ways are offered to track activity as steps. Human Capital Services has pedometers available at no charge and an activity converter is available to convert different activities — swimming, biking, gardening, etc. — into steps. You also will find a listing of apps and wearable fitness trackers that you may wish to use.
Human Capital Services hopes you'll join your fellow K-Staters and take part in the challenge. To learn more, visit the Live Your Best, #PurpleIsProgress website.
Questions? Contact benefits@k-state.edu.