October 23-25, 2014
Hotel Andaluz | Albuquerque, New Mexico
Important Information
Abstract Deadline Extended to September 19, 2014
Conference Hotel (Hotel Andaluz) Special Rate Ends October 10, 2014
Category
Early Registration
Late Registration
(after Oct 15)
Student
$80
$120
Non-Student
$150
$200
Spouse/Guest
$50
$75
Field Trips
Variable Cost (See trip descriptions for details)
Latest News
The abstract deadline for this year's meeting has been extended one week to September 19. Submit your paper or poster abstract and register for the conference now to take advantage of discounted prices before the increase after October 15! (posted September 3, 2014)
Need assistance with childcare during this year's meeting? See our Childcare Subsidy Program page to learn more about your options for licensed care in Albuquerque and how to take advantage of the AAG Childcare Subsidy Program (posted August 21, 2014).
The Friday night venue for this year's joint meeting will be held at the historic Albuquerque Railyards site with dinner catered by Sadie's of New Mexico. The "Yards" is a redeveloped site very close to downtown and the Andaluz Hotel (posted July 1, 2014).
Conference Overview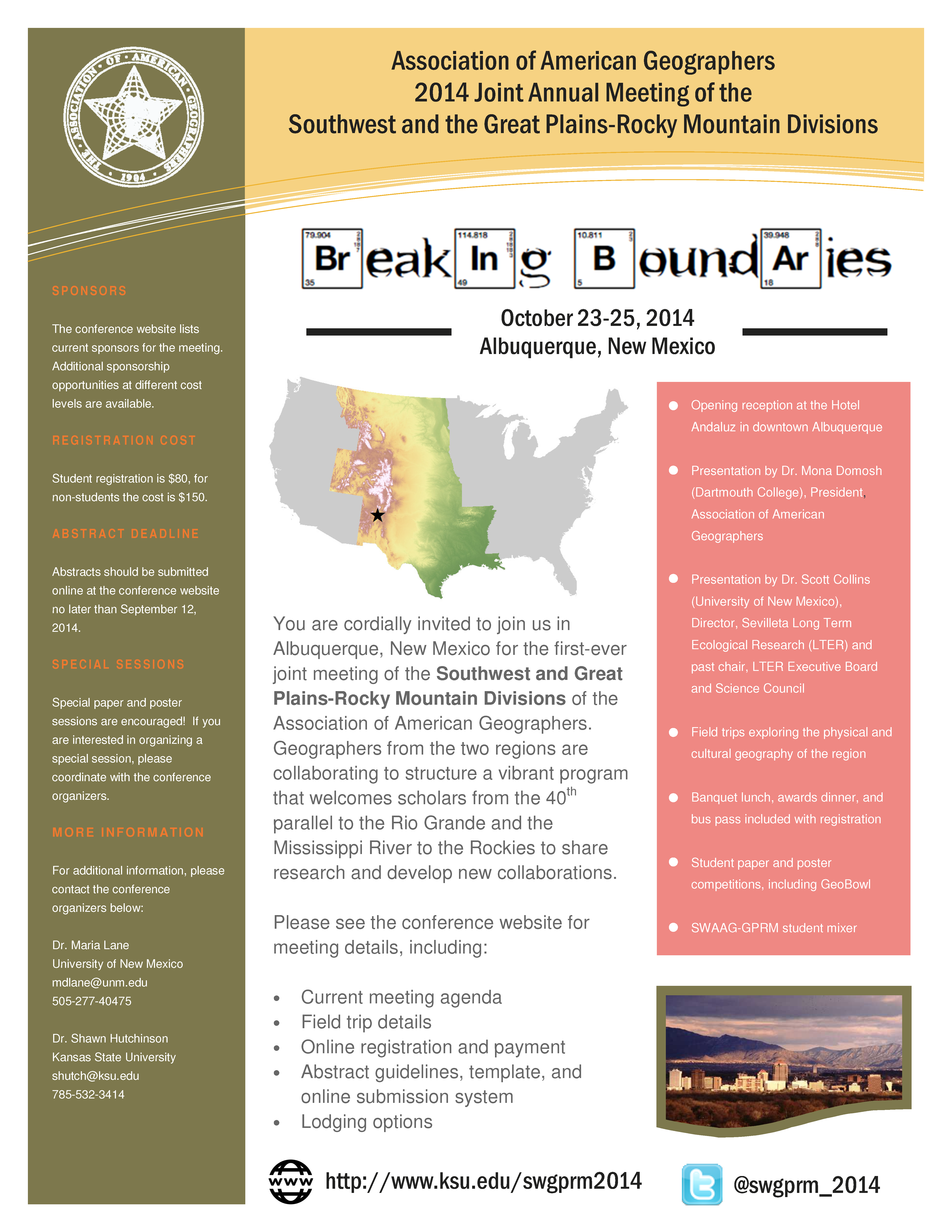 You are cordially invited to join us in Albuquerque, New Mexico for the first-ever joint meeting of the Southwest and Great Plains-Rocky Mountain Divisions of the Association of American Geographers.
Geographers from the University of New Mexico and Kansas State University are collaborating to structure a vibrant program that welcomes scholars from the 40th parallel to the Rio Grande and the Mississippi River to the Rockies to share research and develop new collaborations.
In addition to paper and poster sessions, a number of special events are planned including:
An opening reception at the Hotel Andaluz in downtown Albuquerque.
Invited presentation by Dr. Mona Domosh (Dartmouth College), President, Association of American Geographers.
Invited presentation by Dr. Scott Collins (University of New Mexico), Director, Sevilleta Long Term Ecological Research (LTER) and past chair of the LTER Executive Board and Science Council.
Banquet lunch and awards dinner included with registration.
Field trips exploring the physical and cultural geography of the region.
Student paper and poster competitions, including GeoBowl.
SWAAG-GPRM student mixer.
Free city transportation with an Albuquerque bus pass included with registration.
Opportunities exist for those interested in organizing special sessions at this year's meeting. Please make arrangements with the conference organizers.
Conference Organizers