Karen J.L. Burg
Vice president for research
Professor of chemical engineering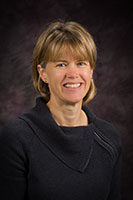 As vice president for research at Kansas State University, Karen J.L. Burg supports and facilitates the research efforts of K-State's faculty, staff and students; directs the university's research mission in meeting the goals of the K-State 2025 plan of becoming a Top 50 public research university by 2025; and promotes the university's research program with stakeholders regionally, nationally and internationally.
K-State research efforts bring in more than $150 million annually in a variety of areas, including food safety and security. As a leader in global food systems, K-State is providing research and training that address the world's growing middle class and demand for meat and other quality foods. The university has more than 90 research centers, including the Biosecurity Research Institute, a safe and secure location to study high-consequence pathogens affecting plants, animals, and food products. The institute will work closely with the National Bio and Agro-Defense Facility, or NBAF, being constructed at the university by the U.S. Department of Homeland Security.
Burg joined K-State in August 2014 from Clemson University, where she served as interim vice provost and dean of the Graduate School at Clemson University since 2011. She also was the Hunter endowed chair, a professor of bioengineering and directed Clemson's Institute for Biological Interfaces of Engineering. From 2007 to 2011 she was Clemson's interim vice provost for research and innovation. She also directed several of the university's laboratories.
Highly recognized for her own research, Burg is a bioengineer whose work has centered on absorbable polymers, biofabrication and tissue engineering. She earned recognition as an early career researcher, receiving a Presidential Early Career Award for Scientists and Engineers in 2002 and a National Science Foundation Faculty Early Career Award in 2001. She was the inaugural recipient of the Swiss AO Research Prize, named a U.S. Department of Defense Era of Hope Scholar and was recognized as a Massachusetts Institute of Technology's TR100 Young Innovator. She is a fellow of the American Institute for Medical and Biological Engineering and of the American Council on Education. Burg is a senior member of the Institute of Electrical and Electronics Engineers, or IEEE; Sigma Xi; and other professional societies.
Her most recent honor is being named one of seven new American Association for the Advancement of Science-Lemelson Invention Ambassadors. The association is the world's largest and most prestigious scientific society. As an ambassador, Burg is tasked with cultivating a new and diverse generation of inventors as well as increasing the global importance of research, discovery and invention education.
Burg has co-edited three books, published more than 30 book and encyclopedia chapters, authored more than 140 peer-reviewed publications and given more than 200 invited presentations. Her research has been sponsored by the National Science Foundation, the National Institutes of Health, the U.S. Department of Defense and NASA. One of her inventions is among the 10 technologies featured in the ongoing Avon Foundation for Women-National Institutes of Health-Center for Advancing Innovation Breast Cancer Start-Up Challenge. She has served on eight NSF biomaterials-focused Engineering Research Center site visit teams. She serves as reviewer for multiple national and international funding organizations, including the NSF, the National Institutes of Health, the Department of Defense, the Swiss AO Foundation, the Swiss NSF, the Israel Science Foundation and the Canada Foundation for Innovation.
Burg earned a bachelor's degree in chemical engineering from North Carolina State University, followed by a master's and a doctorate in bioengineering from Clemson. Her postdoctoral fellowship at Carolinas Medical Center in Charlotte, North Carolina, focused on tissue engineering.
Burg can be contacted at 785-532-5110 or kjburg@k-state.edu. Follow her on Twitter at @kstate_RSCAD.