Transcripts for Electronic Delivery (Former Students)
At the top of the page click Former Student Order Here, then locate the PDF delivery option and click KSU Transcript.
You are now at the on-line ordering system. Select log in or create a new account.
If you have created an account previously, under Returning users use your email address and password to log in. Your KSIS login information will not work in this location. If you have NOT created an account previously, select Create Account on the right hand side of the screen. Enter your personal information. Please note required fields or formats are designated with a red asterisk (*) or red description of the format required. After your personal information is entered then type in security characters on the screen and click Submit.
Read the information regarding the transcript ordering process, and then click on the blue Order Now.
From the list of University Documents, select eTranscript (Former Student).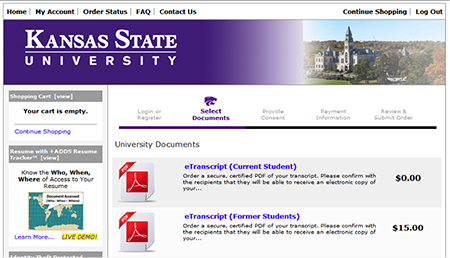 Select whether to enable or disable Transcript Tracker. Enabling has a fee of $1.99. NOTE:Enabling Transcript Tracker will notify you when your transcript has been either viewed or printed online.
Select the Processing Time for your order; Now or Hold for Degree. NOTE:Holding the processing for degree awarding will only relate to the current academic term. You cannot order the transcript now for delivery after a later term.
Enter the recipient's name and email address.
ATTACHMENTS CANNOT BE UPLOADED TO ELECTRONIC DELIVERY OPTION. Select the paper transcript for this option.
Add any additional information appropriate for your order.
Click Add to Cart.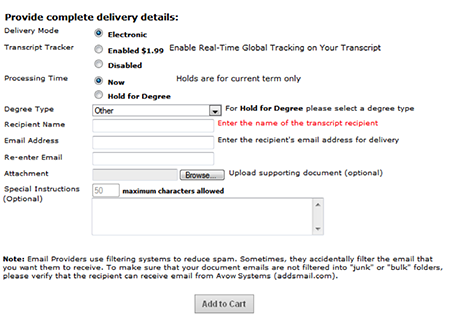 Verify the charges and the recipient information, and then click Checkout. NOTE: You will still be charged the full fee for sending electronic delivery of your transcript to an incorrect email address. There are no refunds or re-submissions without incurring an additional fee. Make sure the recipient's email address is correct.
Read about your FERPA rights, and then click Next.
Verify the payment and billing information, and then click Next.
Re-verify all billing, recipient, and charge information, and then click Confirm.
You will receive an email confirmation of your order and a confirmation of the delivery to your recipient(s).