Recycling Resources
Regardless if you live on or off campus, you can recycle a lot of things in Manhattan.
K-State Facilities Recycling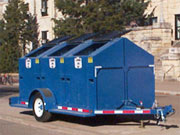 K-State Facilities' staff pick up most of the recyclable materials from campus buildings, including the dorms, to be delivered to Howie's, the local recycling service. Click here to see what you can recycle at K-State and click here to see where you can recycle on campus.
Local Recycling
The 2015-2016 Flint Hills Recycling Directory offers a fairly comprehensive listing of companies and organizations in Manhattan and the surrounding area accepting recyclable materials. Some examples (and additional resources) are:
Animal Shelter: The T. Russell Reitz Animal Shelter gladly accept unwanted sheets, matress covers, pillows, towels, wash cloths, blankets, rugs, and door mats.
Best Buy: recycles electronics (incl. calculators), CDs, DVDs, cell phones, cables, small electrics, fans and vaccums. Click here for a list of what they take. Select Kansas from the drop-down menu at the bottom of the page to see the KS specific recylables.
Howie's Recycling & Trash Service: Click here to see what you can recycle at Howie's. Howie's is accepting e-waste for the Manhattan area free of charge. For their trash customers, Howie's offers curbside recycling.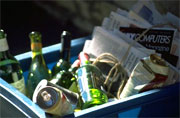 Riley County Household Hazardous Waste:paints, spray paint cans, motor oil, household cleaners, unwanted medication (over the counter and prescription), nailpolish, etc. Click here to see a complete list of what they accept. Every 2nd Saturday, Riley County Housheold Hazardous Waste has a mobile trailer at Howie's for you to drop off your hazardous waste so you don't have to drive all the way out to their facility.
Home Depot: fluorescent light bulbs (not the tubes), batteries (cell phone batteries, AA, AAA, etc.)
UPS Store: packaging materials and intact shipping boxes. Located in the Westloop Shopping Center.
Manhattan Freecycle: a yahoo group, go to http://www.freecycle.org/ to sign up and give your unwanted items away for free. Everything goes, but animals.
Manhattan Craigslist: sell or give away your unwanted items at http://ksu.craigslist.org/