University instructor suggests wine pairings for Valentine's Day
Thursday, Feb. 2, 2017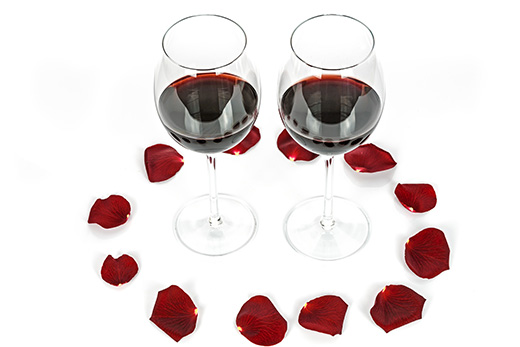 Valentine's Day is approaching and a Kansas State University sommelier offers advice on wine pairings for the special day.
MANHATTAN — A Kansas State University expert says selecting the perfect wine for Valentine's Day is easy: Choose the one you like.

When sweethearts choose an ideal pairing from a group or type of wines they prefer — whether white or red, dry or sweet — the flavors can help create a romantic evening, said Chad Lohman, a certified sommelier and instructor of hospitality management in the College of Human Ecology.

"Wine should not be stuffy or cerebral — it should be straightforward and simple," Lohman said.

Bubbly beverages — including sparkling wines, champagnes, proseccos and cavas — are optimal for couples seeking to approach the day of romance with a celebratory mindset, he said.

"For Valentine's Day, we think of chocolate; we think of roses; we think of champagne," Lohman said.

For those planning to enjoy wine with dinner, champagnes and sparkling wines pair exceptionally with many foods, which Lohman said most people do not realize. Those drinks pair well with chicken alfredo, smoked salmon and other quality dinnertime favorites.

Couples who plan to open their bottle of wine during dessert ought to consider the sweetness and primary flavors of their post-meal treats to find the best pairing for their palates.

Most milk chocolates pair well with sweeter wines, Lohman said. For richer milk chocolate, such as truffles or decadent cakes, Lohman suggests a big, rich California cabernet sauvignon versus a wine that is dry and tannic.

Dark chocolate has its own tannins because of the higher cacao content, so Lohman suggests champagne or other sweet sparkling wines.

For desserts that feature nuts, Lohman advises sherries and ports, the latter of which certainly should be saved for an after-dinner drink because of its higher alcohol content. Sherries and ports are not considered part of the classic Valentine's Day fare, but Lohman said they do pair exceptionally well with nutty desserts.
Since wine does not need to be purchased more than a day in advance, Lohman advises couples to wait to buy until they know what they're cooking for dinner or, if going out to dinner, whether they plan to enjoy a glass before heading to the restaurant or after enjoying their meal.

Those who elect to stock up when stopping into a wine store ought to keep extra wine in a cool, dry place away from light, such as a closet. Leftover sparkling wines should not be kept in refrigerators for long periods of time because the vibrations of the refrigerator will harm the bubbly beverages, Lohman said.

Whether purchasing at a restaurant or a store, Lohman advises asking for help if not certain what beverage to select. Otherwise, a couple may purchase something they don't appreciate or a brand that is more expensive than a similar, more affordable option.

"Whether you're out to dinner at a restaurant with a wine list or stepping into a store full of wines, ask the employee, server or bartender for assistance," Lohman said. "And at the end of the day, remember my No. 1 rule: Always drink what you like."