Opportunities
Federal Community Service Work Study Opportunity
The Federal Community Service Work-Study is funded by the federal government through the Federal Work-Study Program. Academic Mentoring is a designated community service work-study site placing K-State students in positions to "improve the quality of life for community residents" and provide direct service to the community in:
Literacy training and education
Youth service opportunities or youth corps
Support services to students with disabilities
Serves as a mentor
K-State students can take an active role in the community while still earning money during school by becoming an Academic Mentor.
Youth Leadership Development and Days of Service
As part of Academic Mentoring's professional development, mentors are prepared to participate in adult/youth service opportunities working in partnership with youth and adults to enhance leadership skills. Through youth leadership development, youth learn to manage time, work as a team, set goals, start conversations, facilitate meetings, and make effective presentations. It also is a great way to promote positive life skills learning. To fully participate with adults, youth also need to be informed about the adult perspective of the problem, challenge, or issue being discussed: the jargon that adults use to describe their work; and strategies for approaching the work. Academic Mentors facilitate this learning through participation in two national Days of Service, Family Volunteer Day and Global Youth Service Day.
Family Volunteer Day

Family Volunteer Day is a day of service that demonstrates and celebrates the power of families who volunteer together, supporting their neighborhoods, communities and the world. Family Volunteer Day is strategically held on the Saturday before Thanksgiving to "kick-off" the holiday season with giving and service. It also signals the start of National Family Week where families can volunteer together. Volunteering as a family provides quality time, strengthens family communication and provides opportunities for family members to be role models.
Our K-State Family
"People who volunteer together consider themselves FAMILY!"
Family volunteering at K-State is a chance to "communicate, create shared memories and thereby, strengthening relations". HandsOn Kansas State believes family is inclusive of everyone you know, your friends, roommate(s), and co-workers. neighbors, Greek affiliations, classmates, and other within our K-State family. Whether there are two of you or one big group, when you combine your efforts you can see the impact you've made, that's family volunteering.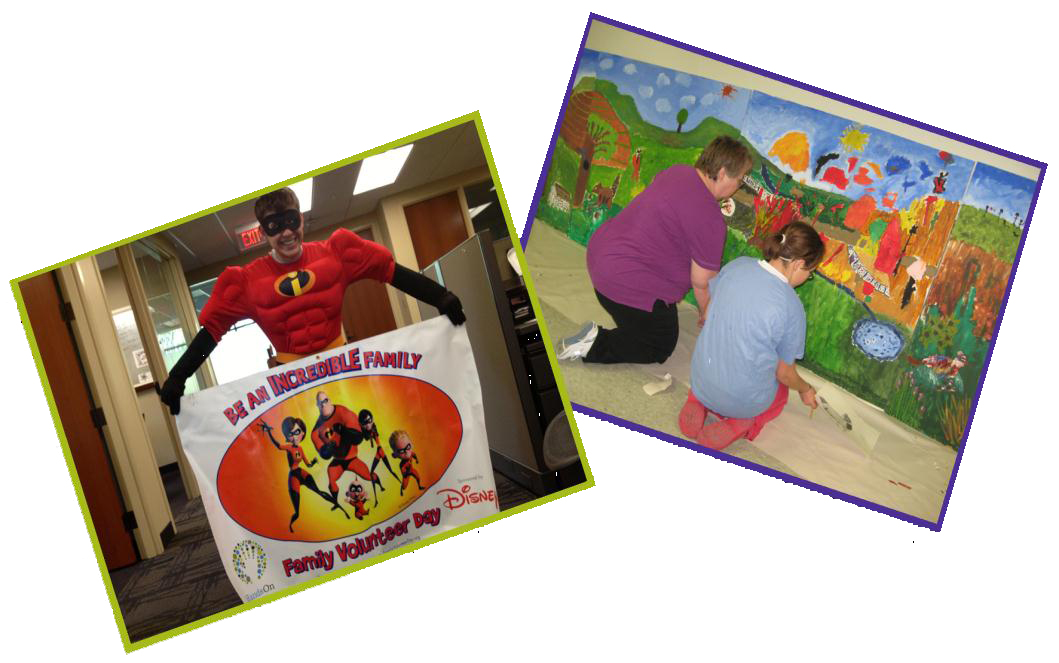 Family Volunteer Week:
Do Good for the Ones Who Serve
The local Salvation Army Thrift Store was destroyed by fire in 2012 and their store, offices and meeting locations recently relocated. Volunteers learned how the Salvation Army assist families and individuals then helped staff and other volunteers organize and move donated items, office supplies and program materials to a new location.
Tis the Season to Give
Volunteers assisted the Manhattan emergency Shelter staff to prepare for their Adopt an Ornament fundraiser.
Kid for a Day
Volunteers hung out and "be a kid" for a day at the Ogden Community Center, during their tutoring and mentoring program. Families and volunteers helped high risk youth with homework or a recreational activity.
From the Ground Up
Volunteers had an opportunity to learn about the history of the Wolf House, is historic significance, understand why maintaining historical knowledge is vital to community revitalization and learning for K-12 students. Volunteers helped to clean up outside and inside of the historic grounds in preparation for holiday and school tours.
Family Volunteer Day: Bags of Hope/Dr. Waddle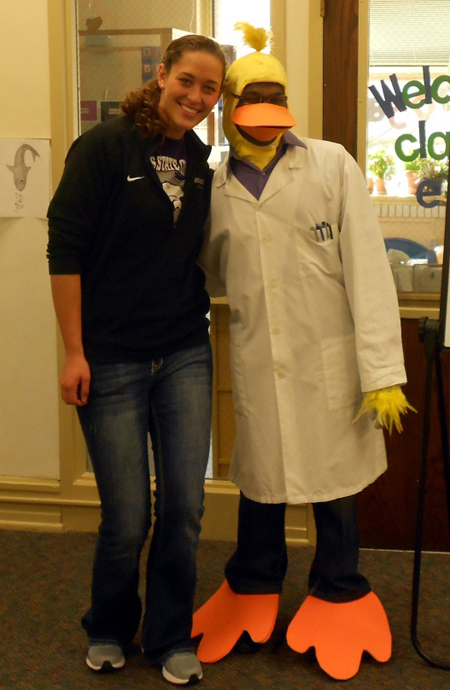 Families and volunteers assembled Hope Bag craft kits for teen in-patients at St. Jude's and Children's Mercy Research Hospitals. Volunteer learned how this family volunteer project started with a K-State student who was the Youth Volunteer Coordinator at St. Jude's and brought back the idea which has been an on-going Alternative Break project for three years. Volunteers learned from Dr. Waddle how scientists assist parents, teachers and other adults to discuss cancers "in a direct yet sensitive manner and how to alleviate the fears and misconceptions associated with these diseases." Youth volunteers also had an opportunity to learn about healthy behaviors.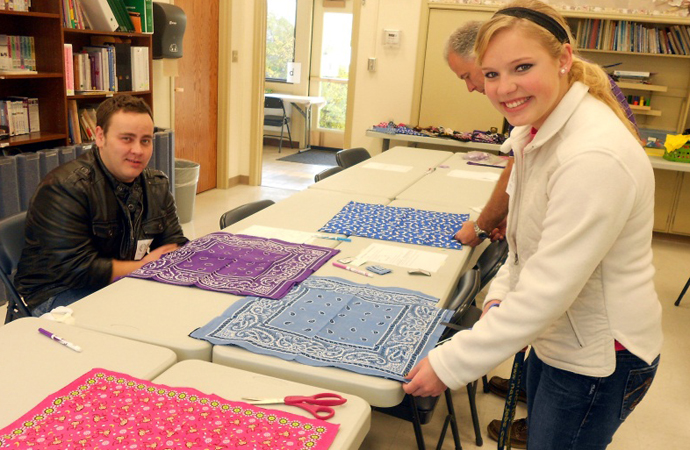 Global Youth Service Day
Global Youth Service Day celebrates and mobilizes the millions of young people who improve their communities each day of the year through service. Established in 1988, Global Youth Service Day is the largest service event in the world, and the only day of service dedicated to children and youth.
GYSD is celebrated each year in over 100 countries, with young people working together--and with schools, youth organizations, nonprofits, community and faith-based organizations, national service programs, government agencies, and adult mentors-- to address the world's most critical issues and change their communities.
Global Youth Service Week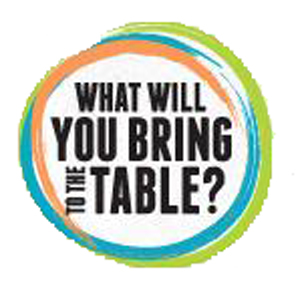 This week of activities focused on impacting the issues of hunger and how youth service work can make a difference. Using the generationOn national project idea called, What Will You Bring to the Table 58 youth volunteers ages 6-22 years, learned, discussed and contributed their time to raising awareness of child hunger and how their service can benefit others. Members of K-State's Sigma Nu fraternity, Alpha Chi Omega sorority, teachers, staff, students and social workers from Martlatt Elementary School, Lee Elementary School, the Flint Hills Job Corps Center and staff from K-State's Academic Mentoring program volunteered to help students and community members learn about hunger in the world and community.
Lifelong Learning: Career and College
Fifteen high risk students, grades 5th-6th, from Marlatt Elementary School visited Kansas State University to learn about college and the benefits of education. Flint Hills Job Corps students and staff talked about their experiences as young people and the challenges they faced in school and at home. The group learned the benefits of giving back to the community and to those in need as part of their educational experience in and out of school. The group participated in a service project by creating Hope bag craft kits for in-patients at St. Jude's Research Children Hospital in Memphis, TN and Children's Mercy in Kansas City, MO.
Hunger Activity Lessons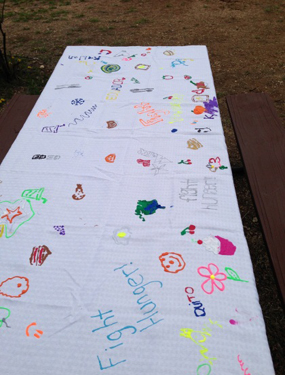 Approximately 144, K-1st grade students from Lee Elementary became aware of hunger in their community and the activities focused on how to address hunger for Global Youth Service Day. Academic Mentoring staff visited classrooms to talk about hunger, hunger awareness and "what they could bring to the table" to address the issues. Activities included planting lima beans and wheat seed, readings, and discussion of child hunger in the community.
Tables for Hunger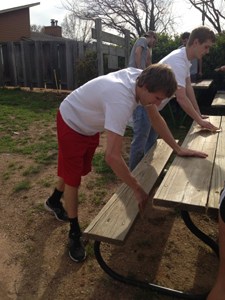 Along with Sigma Nu Fraternity, volunteers sanded, built, and painted wooden picnic tables behind Lee Elementary School. The purpose of this event was to better the appearance of Lee Elementary School, get the community involved in civic leadership, and learning about events planned to increase awareness about world hunger. The tables will be donated to Lee Elementary after the Global Youth Service Day activities.
Global Youth Service Day: What Will You Bring to the Table?
Children and families came to Lee Elementary school to learn about local child hunger. Academic Mentoring staff helped by Alpha Chi Omega Sorority helped set up different interactive stations addressing hunger that included painting, planting wheat, story time, snack and ice cream stations, and a reflection table.