Waiver Information
The waiver is verification that you have purchased alternative, qualifying health insurance coverage. It must be submitted before the waiver deadline each semester. If the waiver is approved, the insurance charge will be removed from your account. The alternative, qualifying coverage must be valid from the first day of classes and must end no earlier than the last day of classes for the semester.
What are the requirements for an alternative health insurance?
A) Unlimited Maximum Benefit for Covered medical expenses
B) Coverage for essential benefits as defined under Patient Protection and Affordable Care Act – including pharmacy, mental health, maternity, preventive care, contraception – with no dollar limits, and coverage for pre-existing conditions
C) Includes Pediatric dental and vision coverage as defined by ACA
D) Policy year deductible of $500 or less. Maximum total out of pocket expense cannot exceed $6,350 per member, $12,700 per family with preferred providers. Deductible, coinsurance, and any copays count toward out-of-pocket maximum
E) Minimum of $100,000 for repatriation and medical evacuation
F) Minimum of 80% coinsurance payable by the insurance plan to network providers. Emergency/urgent care coverage only is not accepted
G) Possess verifiable proof of coverage with student's name (ID card, insurance policy or letter from insurance carrier ) and coverage plan document(s) in English, with currency amounts converted to U.S. dollars, and an insurance company contact phone # in the U.S.
H) Effective dates must cover the entire semester
I) Insurer has a base of operations in the US or has a US based claims payer
Where can I find the waiver ?
Beginning in Fall 2017, the waiver will be administered by the company ECI Services. All students, once enrolled for a given semester will receive an email to their k-state email address from ECI. Students must follow the instructions in the email to complete the waiver. The email from ECI will look like the below image.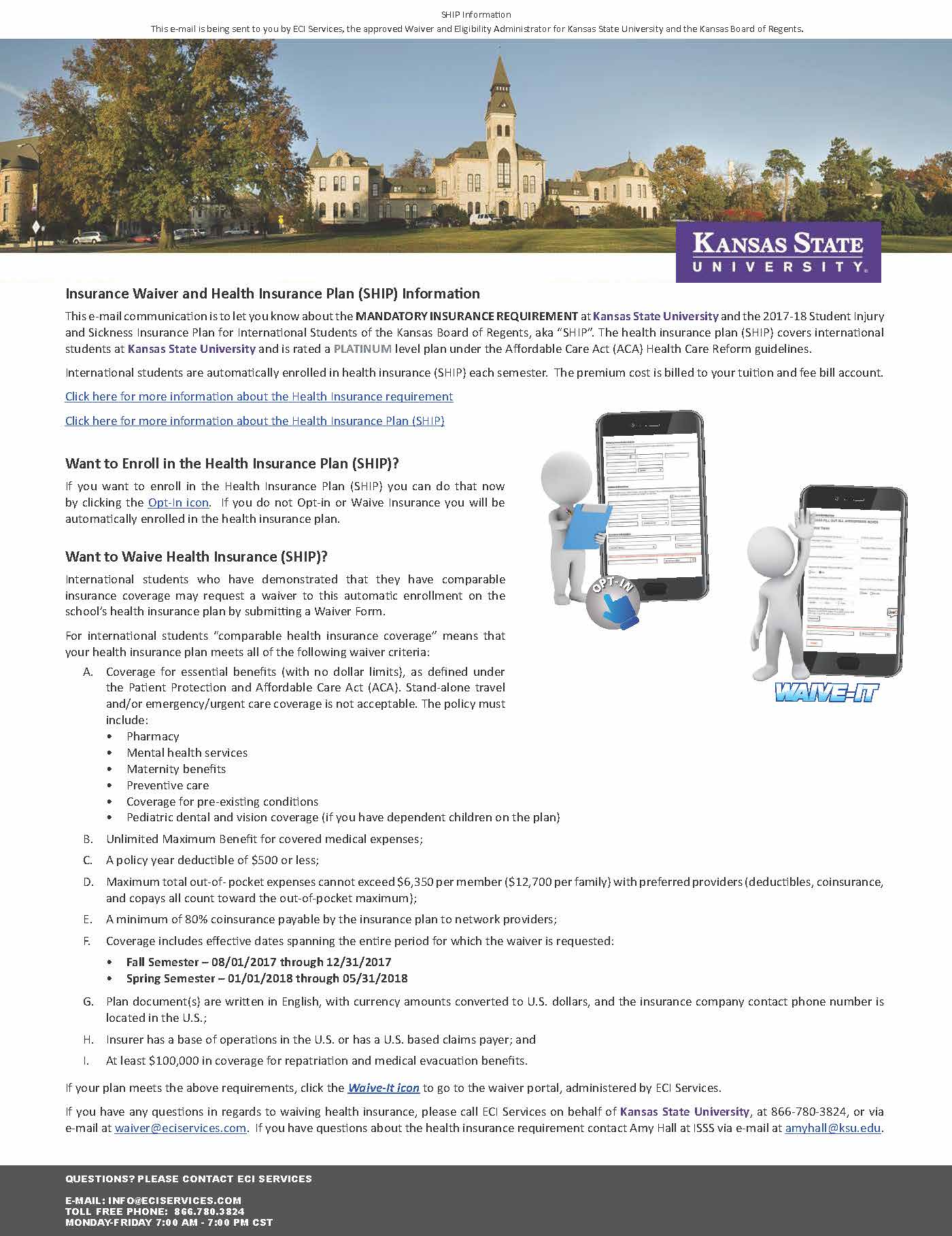 What happens after I submit the waiver form?
ECI Services and the Insurance Coordinator will review your waiver and if approved, the insurance charge will be removed from your KSIS account. If your waiver is denied, you will receive notification from of the denial from ECI and the charge will remain on your account. If you do not see the adjustment of the fee on your account or receive an email from ECI, you should contact isss@ksu.edu prior to the waiver deadline.