About
The Division of Human Capital Service is comprised of Talent Acquisition, Benefits, Compensation and Organizational Effectiveness, Learning and Development, Employee Relations and Engagement, Labor Relations, Resource Center — which includes HRIS and Payroll — and the Office of Institutional Equity. View the organizational chart (pdf) for the entire division.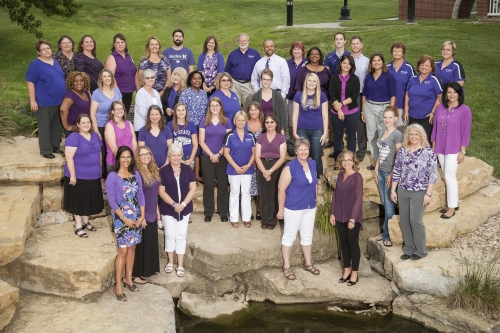 First (bottom) Tier: Charlotte Self, Stacy Divine, Mylene Larson, Catherine Newsham, Amanda McDiffett
Second Tier: Michelle Broky, Jennifer King, Jacquee Stubbings, Samantha Thompson, Melissa Klein, Cindy Sicard, Gina Lowe, Becky Beckley Miranda Riley, Jolene Agan
Third Tier: Victoria Young, Kris Mauck, Frieda Beat, Deena Schmelzle, Cheryl Johnson, Anna Carroll, Kelsey Couture, Lacie Campbell, Shanna Legleiter
Fourth (top) Tier: Shari Liming, Kathy Kugle, Candy Walsh, Connie Pfaff-Eickhoff, Deb Eakes, Jeff Hauser, Jaime Parker, Dennis Jones, Derek Smith, R.J. Steelsmith, Cheryl Grice, Joseph McConnell, Rebecca Laessig, James Johnson, Roberta Maldonado Franzen Pat Schwandt, Kristi Fronce, Mary Beth Rhoads
Not pictured: Alma Deutsch, Travis Gill, Gary Leitnaker, and Trenton Modean.