News Features
Second Annual yOUR Campaign Highlights Campus-Community Partnerships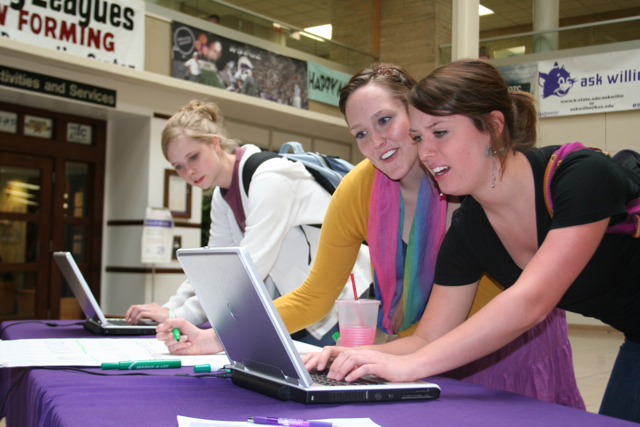 The Center for Engagement and Community Development (CECD), in conjunction with the School of Leadership Studies, hosted the second annual yOUR Campaign. The campaign highlights campus-community partnerships between students and Kansas State University by recognizing the efforts of organizations that are engaging the local community.
In 2010, students and the AmeriCorps Volunteers in Service to America (VISTA) started yOUR Campaign in the CECD office. It originally started as an engagement fair and then progressed into a social media and video submission campaign. The campaign got its name because it represents stories of outstanding student involvement. The capitalized OUR in the campaign name represents the collaborative efforts of the students in the organizations that are featured.
"Highlighting student engagement in campus-community partnerships on K-State's campus is one of the fundamental missions of our university, and CECD was looking to recognize these student groups and bring light to the good work individuals and groups are doing across campus," said Kristin Slater, CECD intern and yOUR Campaign volunteer.
The 2011 campaign consisted of students from local organizations making a 30-60 second video highlighting their engagement initiatives in the community. Eight video submissions were turned into a CECD committee to review and were put on YouTube to draw awareness to the featured organizations. Additionally, organizations were able to use the videos for internal purposes such as recruitment events or to put on their website.
A public event was held on May 2, 2011 in the K-State Student Union to show the CECD Advisory Board and campus community a video premiere of the students' submissions. The three most highly rated campus-community partnerships were recognized for their impact on the community, for the strength and duration of the partnership, and the likelihood of sustaining the partnership. The review committee chose the partnership among Mortar Board and the Child Development Center as the overall winner of the 2011 yOUR Campaign.
"We thought all the examples of the student-community partnerships were very good, however, the Mortar Board-Child Development Center partnership stood out as an excellent example of a campus-community partnership," said David Procter, director of CECD.
CECD plans to continue yOUR Campaign in years to come but hopes to expand it beyond student engagement and incorporate undergraduate engaged research as well. Announcement of the 2012 yOUR Campaign and competition will be in early 2012.