Center for Engagement and Community Development
"Engagement is a form of research, teaching or service in which collaborative efforts between university and community stakeholders result in scholarly activity and community benefit around a public issue."
David E. Procter, Director of CECD
In early 2014, the Office of the Provost and the Center for Engagement and Community Development administered K-State's Engagement Benchmarking Tool in order to capture a snapshot of campus engaged work for 2013 and to establish an engagement benchmark by which to measure our university's progress on engagement. Highlights of the EBT reveal 64.4 FTE dedicated to engaged activity; a university salary investment of $4.16 million toward engaged work; and over $47 million in extramural funding generated by K-State engaged projects. The full EBT report can be read here.
On December 18, 2014, stop by the Student Union room 2007 to listen to David Procter speak about submitting a successful Excellence and Engagement Award submission.
CECD has a paid open position for students. Any interested students should contact Myles Alexander at mylesks@ksu.edu.
Dr. Ruth Douglas Miller, associate professor of electrical engineering, watches the wind blow from her office in Rathbone Hall. But she isn't looking out the window – she's focused on her screen, where data streams in from nine schools all over Kansas. Miller heads the Wind for Schools project at K-State, where wind turbines generate power and learning opportunities for students from elementary schools to the university.
The Kansas State University Provost and the Center for Engagement and Community Development have established the Engagement Incentive Grants. These "seed grants" are designed to assist K-State faculty and Research and Extension specialists and agents to engage more fully with communities in teaching, research, and outreach. Engagement is a form of research, teaching or service, which emphasizes partnerships and collaboration, in which collaborative efforts between university and community stakeholders, resulting in scholarly activity and community benefit around a public issue.

The Center for Engagement and Community Development offered Community Coaching Academies across Kansas from 2009 to 2012. Community coaching is distinct from consulting and individual coaching. A consultant advises and leads for a fixed time. Community coaches describe their work as support to reflect on group functions and activities. Community coaching also helps a group keep their community change goals and priorities in focus.
CECD's new interns join our staff to help our organization and surrounding communities grow and prosper.
Childhood obesity rates have almost tripled since 1980 and one out of seven preschool children is obese. Many health problems result from childhood obesity - diabetes, high blood pressure, asthma and sleep apnea. The project Communities Preventing Childhood Obesity (CPCO) has received a five year $4.5 million USDA grant to test community coaching as an effective method to assist reducing childhood obesity in seven states. The study hopes to answer two questions: How can we teach young children and their parents to make healthy decisions? Is a community coach an effective way to strengthen leadership and bring about change within a community?
Kansas State University has been awarded a $500,000 grant from the USDA to address the economic and nutritional challenges faced by rural communities. The U.S. Department of Agriculture's (USDA) National Institute of Food and Agriculture (NIFA) just announced more than $12 million in grants to support research, education and Extension activities aimed at increasing prosperity and economic security for farmers, ranchers, entrepreneurs and consumers across the nation. The grant awarded to Kansas State University is directed by Dr. David Procter, Center for Engagement and Community Development. K-State co-project directors include Dr. Hikaru Peterson, Agricultural Economics; Dr. Sandra Procter, Human Nutrition Extension; Dr. Dan Kahl, Community Development Extension; and Dr. Kathryn Draeger, University of Minnesota Extension. Industry partners include Affiliated Foods Midwest and NuVal, LLC.
Four national thought leaders in engagement spoke at this year's Kansas State University Engagement Symposium on April 7, 2014. The 2014 Engagement Symposium focused on "The Centrality of Engagement in Higher Education: Integrating Engagement across the University." The panelists explored engaged work from all mission areas of university work including research, teaching, and outreach/Extension. In addition to bringing together national engagement voices, K-State faculty and staff also highlighted their work.
Panel Discussion with National Engagement Leaders
Extension's Engagement Mission
Dr. Lou Swanson, Vice President for Engagement, Director of Colorado State University Extension
University Engagement as Scholarly Activity
Dr. Hiram Fitzgerald, Associate Provost for University Outreach and Engagement, Michigan State University
Learning Engagement as a Foundational University Mission
Dr. Seth Pollack, Faculty Director of the Service Learning Institute, California State University, Monterey Bay
The Metrics of Engagement and Reporting Engagement Impacts to External Audiences
Dr. Valerie Paton, former Vice Provost of Texas Tech University
When diagnosing most patients, Dr. Francis Koopman believes "when you hear hoofbeats, look for horses." But when it comes to certain patients, like those from Kansas State University's Biosecurity Research Institute, his team "looks for zebras." The BRI researches many significant zoonotic pathogens that could spread from animals to humans. Swine flu, yellow fever, tularemia, rift valley fever, anthrax and even plague are all studied in the building. Mercy Regional Health Center performs special health surveillance for uncommon diseases as part of a medical partnership that keeps zoonotic research safe for the scientists and the community.
Matthew Sanderson, associate professor of sociology, asks his rural sociology students on the first day of class, "What in rural Kansas is worth saving?" Some say their families or their farms. The majority are silent. Rural communities are facing challenges such as decline of small businesses and loss of young people to more urban areas. Sanderson teaches the rural sociology class every fall semester, and each year more students say they do not plan to return to the rural towns in which they lived.
In 1989, Jim Hamilton's son and daughter asked if he would teach a directing class. The K-State philosophy professor stepped up to the challenge and created the five-week Manhattan Experimental Theater Workshop (MXTW), held every summer at the Manhattan Arts Center. Twenty-five years later, the workshop is so successful it recently became the subject of a documentary, "Dreaming in Flames: Theater."
Kansas State University and U. S. Army Fort Riley renewed their partnership for the fourth year in 2013. This agreement strengthens the ties that military students have to civilian life and makes K-State one of the most military inclusive universities in the country. The partnership advocates a "whole-of-university" approach with nine specific categories: connection and stewardship of military alumni, military student success, outreach programs, cultural events, athletics and arts programs, military community relations, scholarship, military research, and support for faculty and teaching staff.
Wichita Downtown Development Corporation (WDDC) approached a group of Kansas State College of Architecture, Planning and Design students about revitalizing key parts of their city center. These "catalyst sites" are publicly owned and the city believed that their redevelopment could attract more people and businesses to the area.
There are 170 species of earthworms in North America, but very little information on where each species can be found. Invasive species have taken over the natural environment of some native worms. Human development has forced worms to move or adapt to living along sidewalks and in yards. The data was incomplete and general at best.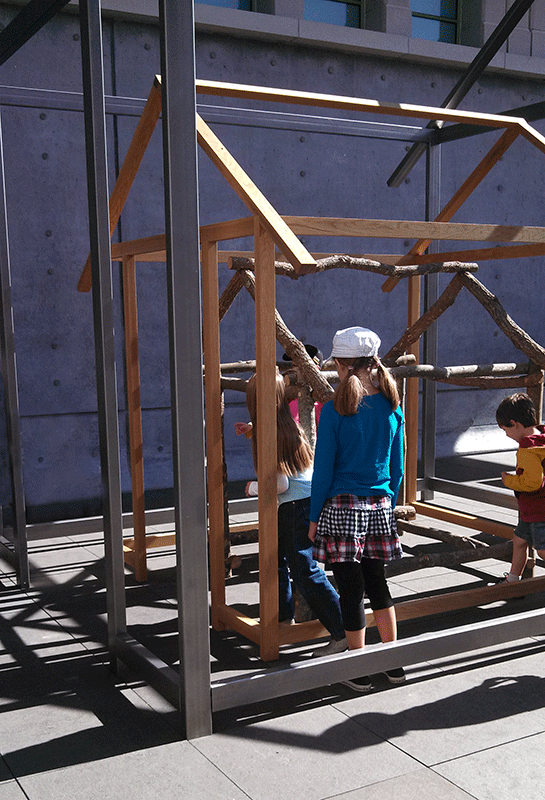 Ten years ago, the Marianna Kistler Beach Museum of Art received a grant from the Kansas Art Commission to promote early childhood art education. This allowed them to consolidate the few classes they had under a new initiative: ArtSmart!, a program dedicated to teaching children about the composition and making of art. Classes are held weekly during the summer and during school breaks. According to Kathrine Schlageck, senior educator at the museum, the groups maintain a stable base of returning students.


Kansas State University Department of Agronomy and Department of Geology students are working together with the Kansas Department of Health and Environment (KDHE) to clean up a plot of land contaminated by nitrates in Sylvan Grove, Kan. This two-acre plot of land has been tested and monitored by two classes of Kansas State University students since 2011.
This fall we welcome our five interns, Haley Acker, social media; Jennifer Butler, Rural Grocery project coordinator; Logan Falletti, writing and research; Jared Wasinger, media; and Katy Weidner, events.
Dr. Clayton is a senior scholar at the Center for Service and Learning at Indiana University- Purdue University, Indianapolis. She is a visiting scholar with the Institute for Community and Economic Development, University of North Carolina at Greensboro and she is a Visiting Fellow with the New England Resource Center for Higher Education.
Please join Dr. Clayton in Town Hall of the Leadership Studies Building to discuss how Kansas State University can continue edging toward a more engaged process of teaching and learning. There will be a reception with Dr. Clayton following the event in the School of Leadership Studies.
Todd Gabbard, an associate professor of architecture, invited local development groups to collaborate with his students, all Kansas State University Master of Architecture candidates, for a fresh look at challenges and opportunities in their communities. The idea sparked interest among several communities, including Colby, Cuba and Eureka.
The Office of the Provost and the Center for Engagement and Community Development (CECD) are excited to announce that we are awarding five engagement incentive grants for spring 2013. We had outstanding applications from a variety of academic disciplines and wish all of the applicants the best of luck in their future engagement endeavors.
Click here to view our five funded proposals.
K-State is pleased to announce the 2013 Excellence in Engagement Award Winners.
Nicodemus, Kan. may have been founded nearly 140 years ago, but for a group of students, faculty and staff at Kansas State University, this historical site is far from old news. Instead, it has resembled a new opportunity.
The Office of the Provost and the Center for Engagement and Community Development are happy to recognize Advancing Child Nutrition Programs in Kansas as one of two winners of the 2013 Excellence in Engagement Award. The program's collaboration between Kansas State University's Department of Hospitality Management and Dietetics and the Kansas Department of Education's Child Nutrition and Wellness team seeks to improve child nutrition programs in schools across Kansas.
Kansas State University was awarded the 2010 Community Engagement Classification from the prestigious Carnegie Foundation. This elective classification is given to institutions where teaching, learning, and scholarship engage faculty, students, and community. In addition, Carnegie looks for a mutually beneficial exchange, exploration, and application of knowledge, information, and resources.
Technology, the Economy, and the Workplace