Blue Key | Kansas State University
Congratulations to the 2014-2015 K-State Blue Key members!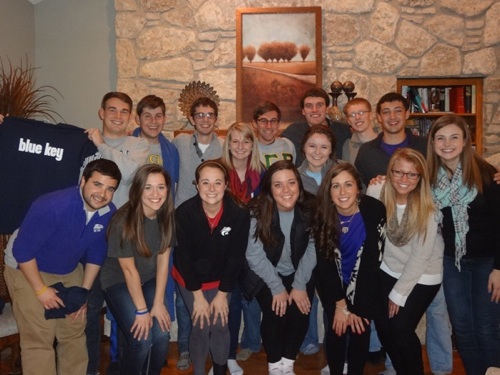 Back row (L to R): Paul Meissbach, Ross Allen, Cody Kennedy, Nathan Laudan, Jason Troendle, Ben Brown, Kurt Lockwood
Middle row (L to R): Abby Works, Paige Druffel
Front row (L to R): Ryan Knight, Lizzi Petite, Caroline Toler, Ellen Collingwood, Allison Niederee, Jordan Marquess, Hope Faflick
Not pictured: Adam Wilkerson (studying abroad)
---
Scholarships Available - apply now!
K-State Blue Key awards over $20,000 in scholarships each year. Download the 2014-2015 scholarship application (PDF).
Scholarship applications are due by Thursday, March 13th, in Room 103 of the School of Leadership Studies Building by 4:00 p.m. Applications should be turned into the reception desk in Room 103. No late applications will be reviewed under any circumstances.
Contact Jake Unruh if you have questions regarding the 2014-2015 scholarship application process.
Visit our Scholarships page to read descriptions of different criteria for certain scholarships.
---
About Blue Key
Blue Key Honor Society is a premier honor society that recognizes college students at senior institutions of higher education for balanced and all-around excellence in scholarship, leadership, and service.
Blue Key Honor Society bases its eligibility for membership on all-around leadership in student life, high scholastic achievement, service to others, citizenship, and an adherence to principles of faith.
Blue Key Honor Society is unique in that it recognizes upper-classmen at colleges and universities throughout the nation for an exemplary and balanced record of achievement inside and outside the classroom.
Blue Key Honor Society celebrates and honors the many accomplishments of it membership. The special qualities of Blue Key members as they model service to others include intellectual curiosity with a desire to acquire knowledge, modeling a significant pattern of leadership which contributes to the institution's student and campus life, service to the community and citizenship, expressing humility through moral character and integrity, and a strong sense of faith in word and deed.