Treasurer Emeritus of KSU ACJA
Christina Sere Mayhew
Treasurer Emeritus I of KSU ACJA
Christina Sere Mayhew served as Treasurer of KSU ACJA for the 2014 - 2015 term of office. She was approved to serve as Treasurer Emeritus I, by unanimous consent, on February 17, 2015. During her term as Treasurer, she sits as the highest earning Treasurer in our chapter's history - dissolving her predecessor's amount by close to $400.00 in just short 7 months. The second highest was when Mr. Brian Swenson served as Treasurer who raised a little over $300.00 in a short few months span (Spring 2012). Along with her efforts in raising funds such as in Bramlage Coliseum, Orange Leaf, etc, she is also the first Treasurer in chapter history to have taken extensive initiatives to raise funds using social media websites such as facebook and worked on a website where people can make online donations to KSU ACJA.
There has been one Treasurer under Miss. Mayhew's advice, she is:
Miranda Rickel, (May 2015 - Present)

Brian Swenson
Former Treasurer Emeritus I of KSU ACJA
(Promoted as Secretary & Chief of Staff Emeritus I on February 12, 2015)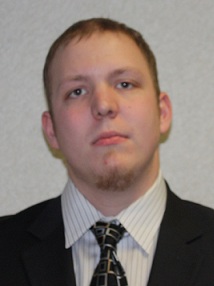 Treasurer Brian Swenson was approved by the membership to be bestowed the title of "Treasurer Emeritus" on Thursday, April 19, 2012. Mr. Swenson was the first Treasurer of Kappa Sigma Upsilon history and played a vital role in ensuring the financial success of the fraternity. Under his leadership, he held a car bash, bbq events at Ray's Apple Market, and held a fundraiser at Orange Leaf.
Previously, he served as the Vice Chair of the Fundraising Committee and as Deputy Treasurer. He was later promoted by the President due to his persistence in maintaining a stable budget for Kappa Sigma Upsilon. Through his hard work, determination, and work ethic, was the fraternity able to fund-raise the necessary funds for the fraternity to have a good start since its initiation in December of 2011.
Due to Mr. Swenson's character and ambition to make things happen for the fraternity, President Hernandez nominated him to be bestowed the status of emeritus.
There have been four Treasurer's under Mr. Swenson's advice, they are:
Clint Jones, (April - May 2012)
Jordan Oatsvall (May 2012 - April 2013)
Megan Powell (May 2013 - May 2014)
Christina Sere Mayhew (May 2014 - May 2015)