Office of the Chapter President
Adriana Olivas
Chapter President of KSU ACJA
(2014 - 2015)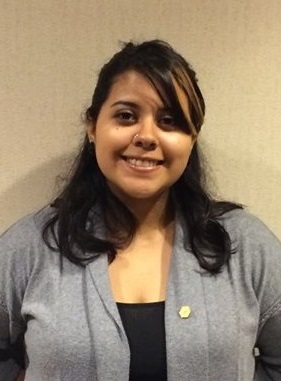 Adriana Olivas will be serving as the 4th Chapter President in KSU ACJA history.
Miss Olivas was elected to serve as Chapter President on April 30, 2014. She was re-elected to serve for a second term on April 29, 2015 She is the first female President in the subordinate chapter's history, and also the first president to have served two terms. Previously, she was elected as Secretary and Chief of Staff for the 2013 - 2014 term of office before being promoted as Chapter Vice President by President Oatsvall and President Emeritus Hernandez. She was very instrumental in helping lead the organization in achieving two main goals which included taking the membership for the first time to a Regional and a National Conference of the American Criminal Justice Association.
Chief among her goals this year is to increase membership numbers and participation, increase treasury funds, and promote the fraternity to a much higher standard. She will also be focusing in several projects, including a partnership with RCPD to hold a mock crime scene, among other activities. She will also be focusing on bringing in speakers from a variety of criminal justice fields.
If you have any questions or concerns, please don't hesitate to contact the President at: adroli@k-state.edu.