Office of the Chapter President
Cody Blake
Chapter President of KSU ACJA
(2015 - 2016)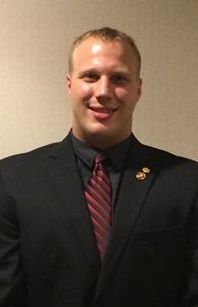 Cody Blake will be serving as the 5th Chapter President in KSU ACJA history.
Mr. Blake succeeded to the Presidency on December 11, 2015 upon Ms. Olivas stepping down upon graduation from K-State.
He looks forward to working with the members of KSU ACJA and hopes he can take at least 6 - 8 members to the National Conference that will be held in Sacramento, California. As per Mr. Blake, fundraising has been a huge success this year, and hopes this will encourage the members to continue to work hard and be able to participate in the competitions and activities that will be made available to them at nationals. One of the main project the chief executive will also work on is begin the process to merge KSU ACJA with the K-State Criminology Club and hopes it is completed by the end of the Spring 2016 semester.
Previously, Mr. Blake served as Chief of Staff (2013 - 2014), and as Chapter Vice President (2014 - 2015) which has allowed him to learn all aspects of the leadership process of KSU ACJA. He will be focusing on improving group retention, continue to increase funds, and work with other student organizations to provide the best possible experience the students can be provided.
As President, Mr. Blake will be serving as the chief executive and official representative of Kappa Sigma Upsilon. He will have the power to veto, preside chapter and cabinet meetings and call them to order, determine if there is a quorum, have the authority to make executive orders, excuse absences with final authority, provide assistance and direction to all officers of KSU ACJA, recognize members entitled to the floor, state and put to vote questions that legitimately come before the assembly, expedite business in every way possible without denying the rights of the membership, recruit professional guest speakers, respond to questions arising from the media whenever necessary, in consultation with the faculty advisor, among having an ongoing concern for chapter retention and continuity.
To contact the president, send him an email here: cnblake@ksu.edu.