Susan Shuman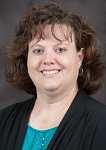 Office: Division of Biology
Address: 1026 Business Building
Phone: 785-532-6953
E-Mail: smshuman@ksu.edu
SenatePosition: Senator
Short Biography:
I started here at K-State in 2013. I am currently working to earn my Bachelors of Science in Business Administration with an emphasis in Human Resource here at K-State. I will complete my degree in the summer of 2017.
Brief Work History:
Prior to coming to K-State, I worked for Cintas Corporation, one of the leading uniform companies in the nation. During my time at Cintas I worked closely with local Human Resource Managers helping their diverse group of employees. It was during this time I found my real passion in helping co-workers with their HR needs.
Personal Interests:
I love spending time with my family and my dog Lucy. In my spare time I enjoy DIY projects (huge Pinterest fan), baking, decorating, reading and watching movies.