Cyreathia (Sam) Reyer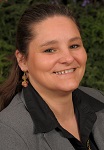 Office: Horticulture Natural Resources
Address: 2021 Throckmorton
Phone: 785-532-1413
E-Mail: creyer@ksu.edu
SenatePosition: Senator
Short Biography:
Original Manhattanite, graduated from Manhattan High School. Lived in the Manhattan until 1988 then moved to Wamego. I am married with two grown sons and three grandchildren.
Brief Work History:
Began my career with Kansas State University December 1980. My first 7 years was in the Dean's Office of what was then called the College of Home Economics later to be named Human Ecology. Transferred to the Department of Forestry and have stayed with the department through the merger with Horticulture to now be known as the Department of Horticulture and Natural Resources.
Personal Interests:
After our youngest son's NCAA eligibility ended and I was no longer travelling from stadium to stadium to watch him play, I started making jewelry as a way to occupy my time. I create jewelry using different mediums (beads, wire, polymer clay, metal clay and resin). I have recently expanded my crafting to include vinyl and etching with a blasting cabinet. We have an English Bulldog that is our baby and I help support the Bullysrule Bulldog Rescue by donating to their fundraising auctions.