Stephen Greinke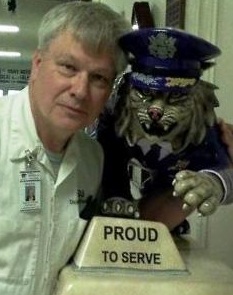 Office: Facilities Services
Address: 139A Cardwell Hall
Phone: 785-532-6267
E-Mail: sgreinke@ksu.edu
Senate Position: Senator
Short Biography:
I was born in Elmhurst, Illinois, the oldest of 3 sons of LeRoy and JoAnn Greinke, attended John Hersey High School in Arlington Hts. Illinois. Entered the seminary college in Waterford, Wisconsin for six years. Professed Religious Vows in 1976. Attended Franciscan School of Theology at Graduate Theological Union in Berkley, California, Holy Names University, and School of Applied Theology Oakland, California. Served as Parochial Minister for over 30 years. Now I'm called to live the Eremitic Life at Mary Mother of God (Theotokos) Hermitage – Ogden, Kansas for the last 14 years.
Brief Work History:
My career at K-State began in June of 2009 as Custodial Supervisor Senior, for the Evening Shift. I supervise 6 K-State Buildings and one State of Kansas Building with a staff of 14 custodian specialists. From Daycare to Math and Science my crew does it all!
Personal Interests:
I do enjoy world traveling – My favorite place to visit is Rome Italy, I traveled to India, China, Philippines, Thailand, and Korea. But most of the time I spend my time at home in prayer and in study.