Union Copy Center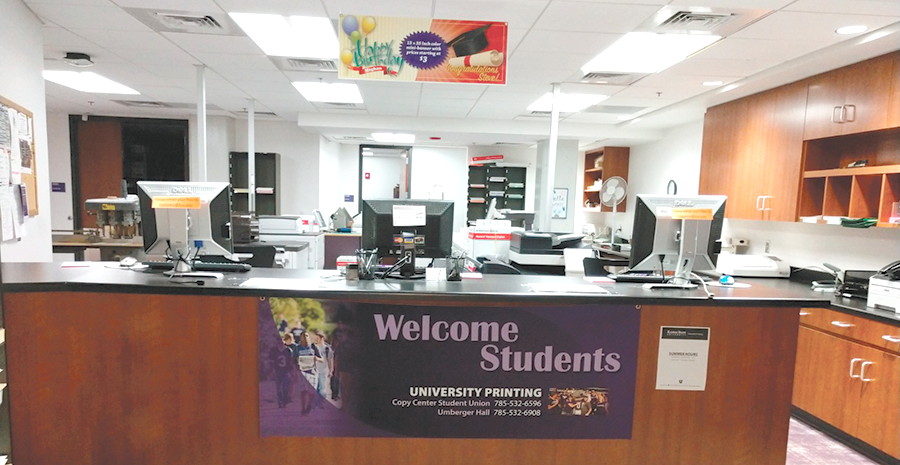 University Printing is your on-campus printing partner and is here to meet all of your printing needs. We offer competitive prices, quick turn-around and guidance on how to make your project the best it can be. Best of all, we are right here in the Union!
Digital printing is ideal for class projects where quality and speed are essential. We can help you with large format printing such as posters, banners and signs; copying, laminating, mounting, window clings, stickers, and more.
Online ordering
is available for anytime ordering convenience or you can stop by either location (52 K-State Student Union or 26 Umberger Hall) for face-to-face consultation.
Posters
Large scale posters (60-inch maximum width) for research presentations, class projects or outdoor banners with UV inks are made to order. We print on a variety of materials, including cloth, vinyl, tac board, and a wide assortment of paper in varying thicknesses, textures, and finishes. Posters can be laminated, mounted on foam core backing and/or grommeted. X-Frame banner stands are available for purchase and are a great way to display your poster at events. The stands are light-weight, collapsible, and easy to store. Come by the Student Union location and take a selfie!
Banners
Smaller and less expensive banners (up to 13 x 35 inches) are available starting at $3 (example).
Resumés
Let us print your resumé and business cards for use at K-State career fairs. We offer a wide variety of paper selections for professionally printed materials, sure to impress future employers. With locations in the Student Union and Umberger Hall, we are only a few steps away from campus career fair locations.
Binding
Need your portfolio or class project bound? Do you wish you could open that paper textbook wider? We can help! Comb and spiral binding are just two of the types of binding we use to hold your projects and proposals together. We can also remove the spine from those thick paperback textbooks and replace it with spiral binding for easy opening and reading. Another convenient option is to let us three-hole punch your materials for use in three-ring binders.