May 7, 2013
New KSDB-FM program director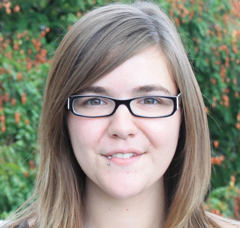 The KSDB-FM Advisory Board reports that A.Q. Miller School of Journalism and Mass Communications undergraduate student, Jennifer Edgar, is the new KSDB-FM program director. Edgar, a student in journalism and mass communications digital media, brings an abundance of experience to the position of program director.
Edgar is the current KSDB production director and host of the KSDB program, "The Garage with DJ ROO and Swojay." At the 2013 Kansas Association of Broadcasters Student Seminar, Edgar was honored with three separate awards for her work with KSDB-FM: first place for station promotion announcement, second place for complete taped newscast and second place for DJ Personality.
Prior to transferring to Kansas State from Cowley County Community College in Arkansas City, Edgar interned at KACY-FM.
Edgar will transition into her new position at the beginning of the first 2013 summer session.
The KSDB-FM program director is responsible for developing and implementing the programming of the station. The program director performs supervisory duties for all on-air staff, producers and content of music, news, sports and community–based diversity broadcasts.
KSDB-FM broadcasts on 91.9 MHz, streams on the Internet and is heard on campus cable channel 25. KSDB-FM operates 24 hours a day, seven days a week throughout the year.