May 6, 2013
Letter from A.D. John Currie: Highlights from a week on the road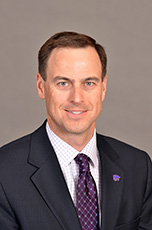 Good Morning K-State Nation,

I had the privilege

Friday night

of witnessing K-State's gritty 3-2 comeback baseball win over the Longhorns in Austin. Right up the road in Waco on

Friday

, freshman hammer thrower Sara Savatovic won the Big 12 championship with a 64-foot toss which also re-establishes the Serbian national record she already held!


Here are a few highlights from my week on the road.

We started our Big 12 meetings on

Tuesday

in Phoenix, but I flew out of MHK through DFW into Tucson on

Monday

afternoon to see Arizona's nearly-completed football center and end zone expansion. My good friend and Arizona A.D. Greg Byrne gave me a comprehensive tour of their impressive facility, which is being built by Mortenson — the same company that is teaming with GE Johnson to construct the West Stadium Center. Additionally, the UA building was designed by Heery, the co-designer of the WSC along with Kansas City's AECOM. It is always good to benchmark ourselves with our competition and get ideas for future phases of the Bill Snyder Family Stadium Master Plan.
After making the drive up Interstate 10 to Phoenix on

Monday

night, we met

Tuesday

and

Wednesday

with Big 12 A.D.s, senior women administrators, head coaches of football, men's and women's basketball and conference officials and partners.

Tuesday

started with a 7 a.m. session of our game management and officiating subcommittee (always an interesting discussion), followed by an A.D.-only session and then several hours of athletic director/senior women administrator meetings as our coaching groups met separately.
Needless to say, the dynamics of our meetings have dramatically improved over the last few years! At

Tuesday

night's dinner we toasted Big 12 Commissioner Bob Bowlsby on the one-year anniversary of his selection to lead the conference's new era. I looked around the room at the 30 men and women who coach the football and basketball programs of our conference — perhaps the deepest collection of championship-proven coaching talent of any league in the country. At our table, which included friends from the Fiesta and Alamo Bowls, we toasted the great work of Coaches Snyder, Patterson and Weber, whom I wouldn't trade for anyone in the room!
On

Wednesday

, the ADs started at 7:15 a.m. with an update on our future bowl lineup. The move of the Cotton Bowl into the College Football Playoff and the Big 12's agreement with the SEC and the Sugar Bowl will cause a trickle-down effect on our bowl roster. When everything is wrapped up I believe we will continue to have a tremendous lineup that provides great destinations and matchups for our student-athletes and fans. The Big 12 had a college football record 90 percent of teams in bowls this past year so expect some of our previous destinations to continue with us, along with other bowls which are very excited to have the Big 12 come to their city.



Wednesday

also included a branding discussion for all attendees and then the ADs and SWAs met with each separate coaches group. Discussion topics included a commissioner's report, NCAA regulations and reforms, scheduling windows, TV issues, post-season qualification, etc.
At the same Phoenix site, the Fiesta Bowl's annual college football meetings began and continued into

Friday

morning although I left early to head to Austin. In addition to connecting with other A.D.s, coaches, TV and bowl partners from around the country, a highlight was a

Thursday

morning session about concussions and player safety. There have been very significant advancements in the recognition and management of concussions in all sports, although football certainly is the most discussed activity. At K-State we believe that we have a highly advanced policy which we review and update twice yearly. Student-athlete safety and welfare is our No. 1 responsibility.
When thecollege football playoff selection formula is released later this year, expect a premium to be placed on road wins similar to that of the basketball RPI. We'll continue to need to plan future schedules carefully while we also strive to have seven home games every year we possibly can.
Of course with final exams upon us, the most important work is being done in Manhattan so here are some additional updates from around the department:

Big 12 provosts visit Manhattan
K-Stat played host this weekend to a special group of visitors as provosts from the league's 10 universities visited campus to collaborate and build upon the academic unity of our conference. Provost April Mason was a terrific host and helped familiarize our league counterparts with K-State. One of the goals of President Schulz's K-State 2025 plan is integrated education, research and engagement, and among the activities were tours of the Grain Science and Industry Complex, Biosecurity Research Institute and Beach Museum of Art. Click for a full release.

National publication recognizes BTF
Every time I walk into the new Basketball Training Facility I can't help but smile. It is a world-class facility, and both of our basketball programs have reaped the benefits of this outstanding building. And others are noticing too – former Wildcat Mitch Richmond tweeted about the facility last month and now Signs of the Times magazine placed our facility second in the Exhibits/Murals/Banner category of the publication's national competition for its innovative design in the James and Laura Johnson Atrium and Berney Family Reception Center. Thanks to our partnership with world-renowned firms Populous and Dimensional Innovations, together we were able to bring the building to life with branded graphics packages, features and displays that help make this facility one of the nation's best. Click for our full release.

Fan experience staff finalist for national award
Our 139 staff members pushing towards our vision of a model intercollegiate program are earning national recognition, too. Following a year that saw record attendance at Bill Snyder Family Stadium and Bramlage Coliseum, as well as our 16 Goals promotional campaign that became an overnight Internet sensation, our fan experience and sales department has been named one of three finalists for the NACMA Marketing Team of the Year Award. Our terrific team is led by Associate Athletics Director Scott Garrett and Director of Fan Experience and Sales Joni Smoller, while Assistant Director of Fan Strategies Adam Prough, graduate assistants Bethany Cordell and Phil Lewicki, and an elite group of student interns comprise the staff. The winner will be announced at this summer's annual NACDA convention in Orlando.

Wildcat equipment manager honored with scholarship
More kudos are in order for one of our football equipment managers as Austin "Zach" Reinhardt was recently awarded one of five national scholarships from the Athletic Equipment Managers Association for the upcoming school year. We appreciate the hard work of each of our student managers as well as the leadership provided by head athletic equipment manager Will Rodecap and football equipment manager Al Cerbe. It is important as a department we provide our student workers and graduate assistants with the training, tools and experiences necessary to have successful careers. Congrats again to Zach!

Tennis duo heading to NCAA's
For the first time since the 1995 season, our women's tennis program will be represented in both the NCAA Tennis Singles and Doubles Championships

May 22

-27, as junior Petra Niedermayerova earned her third straight appearance into the singles championships and will join her playing partner, senior Karla Bonacic, in the doubles championships. On another exciting topic regarding our tennis program, it was great to see our team practicing for the first time this week on their new playing courts near the Recreation Complex (click for a photo). The new facility is going to be a tremendous addition to our program – stay tuned for more details!

Mark your calendars for Tointon action
Coach Hill's squad is currently just one game out of first place in the Big 12 race with three important series remaining. Support the 'Cats next weekend in Lawrence and then we look forward to a packed house at Tointon Family Stadium

May 17

-19 for our final home series of the season against league-leading Oklahoma.

Enjoy the week and thank you for your continued support of K-State student athletes!
Go Cats!
John Currie