May 3, 2013
McCullough earns Award of Distinction from alma mater
Submitted by Communications and Marketing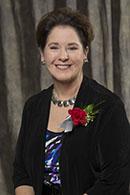 Elizabeth McCullough, program director of testing services at Kansas State University's Institute for Environmental Research and professor emeritus of textile science, has received the Award of Distinction from the College of Education and Human Ecology at Ohio State University.
The award is presented to alumni of the college who have achieved excellence in their careers. McCullough is a 1974 summa cum laude graduate of Ohio State with a bachelor's degree in home economics education.
She was recognized for improving the comfort level of sleeping bags, protective clothing, buildings and more through for her world-renowned research on the thermal properties of textiles. She helped develop standards of comfort followed by laboratories, architects, heating and cooling engineers and the military. In addition, her advanced testing laboratory aids Nike, Lands' End and 250 other companies in evaluating their products' thermal characteristics.