May 1, 2013
Eisenhower Memorial executive architect to speak today at K-State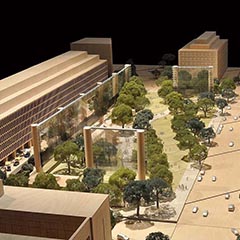 Daniel Feil, fellow of the American Institute of Architects and executive architect of the Dwight D. Eisenhower Memorial Commission, will present a lecture on public architecture at 2 p.m. Wednesday, May 1, in the Little Theatre. After Feil's talk, he will lead a question and answer discussion. The lecture is free and open to the public.
Feil joined the commission in July 2005. Under his direction, a site for the memorial was approved in a record 15 months. He managed the development of the three-volume pre-design architectural program for the memorial. Working with the National Capital Region of the U.S. General Services Administration, the memorial design team selection process was completed using the GSA Design Excellence Program. The selection process resulted in a contract awarded to Gehry Partners, marking the first time world renowned architect Frank Gehry has entered into a design contract with the federal government. The memorial design began on January 8, 2010.
Prior to joining the Eisenhower Memorial Commission, Feil managed the proposed design and construction of a major expansion of The John F. Kennedy Center for the Performing Arts in Washington, D.C. The 450,000 square foot design by Rafael Vinoly Architects will serve the center's education program, provide a new Performing Arts Museum and create a permanent "back-of-house home" for the Washington National Opera. The two buildings, costing $350 million, will frame a new reflecting pool creating a proper setting for the original Presidential Memorial building. Feil has a proven record of successful management of high profile, complex, public projects in the Washington, D.C., area.
Before joining the Kennedy Center in 2004, Feil was in charge of the design of all public buildings at Ronald Reagan Washington National Airport. The $750 million capital program created a unified campus with architectural designs by a number of internationally renowned architects including Cesar Pelli, Bill Pedersen and Shalom Baranes. National Airport's award winning, 1.1 million square feet $500 million Terminal B/C, has been well received by the public as a signature domestic gateway to the nation's capital. He is also responsible for re-establishing the role of master architect, giving Cesar Pelli & Associates leadership responsibility not only for the complete terminal design, but also for the 30-piece, $6 million art program as well.
Feil received his Bachelor of Science and Bachelor of Architecture degrees from the City College of New York. He received his master's in urban affairs from Virginia Tech. He was elected to the American Institute of Architects, or AIA, College of Fellows in 1997, in recognition of his significant achievements in public service. In 2012, he received the Thomas Jefferson Award for Public Architecture from the American Institute of Architects.