April 26, 2013
Geographer recognized with research excellence award
Submitted by John Harrington Jr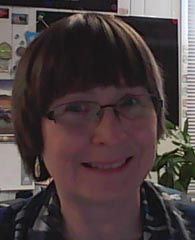 Lisa Butler Harrington, professor of geography, was recognized with the Association of American Geographers Rural Geography Specialty Group's John Fraser Hart Award for Research Excellence in April, at the national meeting of the Association of American Geographers in Los Angeles.
The award was established in 1988 to honor a scholar who has achieved and maintained excellence in the fields of agricultural and/or rural geography research. In the 24-year history of the award, Harrington becomes the 11th recipient.
Harrington received her doctorate from the University of Oklahoma in 1986. Her research has focused on human-environment relations or social-economic systems in rural areas, particularly considering how people use natural resources and shape local environments in rural areas.
She has reported on her work in more than 100 scholarly presentations and 63 peer-reviewed works. Harrington has received research funding from such agencies as NASA, the National Science Foundation, and the National Institute of Global Environmental Change.
She has served on numerous National Science Foundation review panels, has served as Association of American Geographers secretary and Great Plains/Rocky Mountain Regional councilor; and served in various capacities as secretary, treasurer and chair of the Rural Geography Specialty Group's predecessor, Contemporary Agricultural and Rural Land Use specialty group; and has been active in the Quadrennial British-Canadian-American Conference on Rural Geography since 1992.