March 28, 2022
CEZID hosts Jorge E. Galán for seminar on salmonella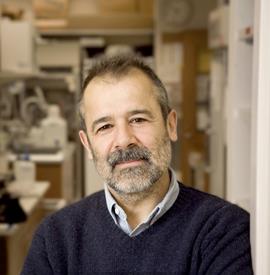 The Center on Emerging and Zoonotic Infectious Diseases, or CEZID, is hosting Jorge E. Galán in the CEZID Distinguished Speaker Seminar Series at 3 p.m. Friday, April 1, in the Mara Conference Center and via Zoom. CEZID is an NIH Center of Biomedical Research Excellence, of COBRE.
Galán's presentation for the seminar is "Pathogen restriction and host-specificity: The Salmonella typhi paradigm."
Galán is a graduate of National University of La Plata, Argentina, where he completed his veterinary science degree in 1982. Galán earned his doctorate in microbiology from Cornell University in 1986 and completed his postdoctoral studies at Washington University in St. Louis. Currently, Galán is the Lucille B. Markey professor of microbiology and chair of the microbial pathogenesis department and professor of cell biology at the Yale University School of Medicine.
Galán has made numerous contributions to the field of bacterial pathogenesis. He has pioneered the study of the cell biology of infection and the mechanisms of pathogenesis of the enteric pathogens Salmonella spp. and Campylobacter jejuni. His work has led to the understanding of mechanisms by which these pathogens enter and replicate within mammalian cells and has established paradigms applicable to other pathogens.
Galán is a member of the National Academy of Sciences and several scientific advisory boards. He has authored more than 200 publications in the field of bacterial pathogenesis and molecular biology.
The CEZID seminar series is organized within the diagnostic medicine and pathobiology department in the College of Veterinary Medicine and is hosted by Juergen Richt and Phil Hardwidge.
Mara Conference Center on the fourth floor of Trotter Hall.