February 25, 2022
Updated PPM 3010 training available for employees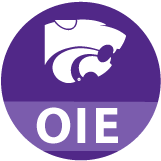 The Office of Institutional Equity, or OIE, has completed an updated training course on the university's Policy Prohibiting Discrimination, Harassment, and Sexual Harassment and Procedure for Reviewing Complaints, PPM 3010. This training reminds employees of their obligations as responsible employees and the resources available to them at K-State.
OIE strongly recommends this training as a referesher for any employee who began employment with K-State before Jan. 1, 2022.
We encourage reports to OIE be submitted using our online form.
View a list of comprehensive resources available at K-State.
If you wish to request a training session from OIE for your department or unit, or have any questions regarding this training session and your obligations under PPM 3010, please contact us at equity@k-state.edu or 785-532-6220. You may also visit us in person in the Edwards Hall A Wing, Room A101, from 8 a.m. to 5 p.m. Monday through Friday.