February 3, 2022
Chad Miller recognized as Professor of the Week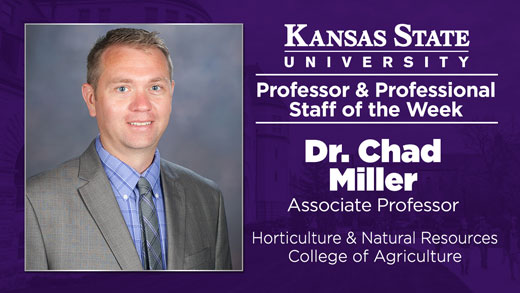 Chad Miller, associate professor of horticulture and natural resources, was recognized as Professor of the Week at the Feb. 2 men's home basketball game.
Faculty Senate, the Office of the President, K-State Athletics and the Division of Communications and Marketing wish to recognize his contributions to K-State.
Miller teaches several core courses in the department including plant propagation and plant identification courses and assists with international study experiences. He also co-advises the Horticulture Club. Since arriving in 2011, Miller has continually worked to develop and improve his scholarship of teaching and learning, working to improve and innovate classroom curriculum and activities through many different professional development activities, including the K-State Teaching and Learning Center, along with professional organizations such as the North American Colleges and Teacher of Agriculture and the American Society for Horticultural Science. He continues to publish and present his scholarship of teaching and learning work on a national and international level. He has enthusiastically served students through his teaching and advising. His evaluations by students consistently rank him in the top tier of teaching faculty in the university for his teaching and advising performance, and the numerous awards that he has received are testament to the enthusiasm, excellence and scholarship that he brings to his instructional efforts.
He has been recognized for his teaching and advising achievements, both institutionally and nationally. He is a fellow of the first cohort of Association of College and University Educators program at K-State. Last year, Miller received the 2020 K-State Presidential Award for Excellence in Undergraduate Teaching. Other recognitions include the 2017 USDA Food and Agriculture Sciences Excellence New Teacher Award; 2017 Perennial Plant Association Academic Award; 2017 NACTA Educator Award; the 2014-2015 K-State College of Agriculture Advisor of the Year Award; and most recently was selected as one of six participants for the inaugural ASHS Leadership Academy.