December 10, 2021
College of Business students to be recognized at commencement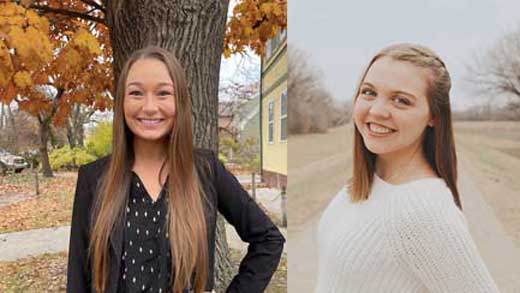 Skyler Williams, left, and Riley Moore
The College of Business recently announced the names of two graduating seniors who will receive special recognition at fall commencement. Skyler Williams is the fall 2021 recipient of the college's Outstanding Graduating Senior Award, and Riley Moore is the fall 2021 student commencement speaker.
Williams, Paola, is the daughter of Mark and Kinda Williams. She is a graduate of Paola High School. Williams is an accounting major concurrently working on her Master of Accountancy degree. She is also earning a minor in leadership studies. After graduation, Williams will continue working on her Master of Accountancy in the audit and assurance track.
Williams had been involved with several student organizations: Student Accounting Society, Quest Freshman Honorary and finance assistant and membership vice president for her sorority, Gamma Phi Beta. She is the recipient of several awards, including the four-year Leadership Scholarship, the Wallace L. and Reva Jean Barrett Scholarship, and the Elnita Ehler Jezek Scholarship. She also has worked in the business office of K-State's student newspaper, The Collegian, since August 2019.
Williams has maintained a high GPA in her challenging academic course work while performing her many responsibilities with student organizations and her jobs.
Moore has been named the fall 2021 student commencement speaker. A native of De Soto and a graduate of De Soto High School, Moore is the daughter of Dustin and Pamela Moore. She is majoring in finance and earning a certificate in international business. Following graduation, Moore has accepted a full-time position with Koch Industries as an accountant/analyst with Flint Hills Resources in Wichita.
Moore served the college as a College of Business Ambassador. She is the treasurer of Chi Omega sorority, was the vice president of finance for the Silver Key Sophomore Honorary and has been active in the Women in Business initiative in the college. She has received several awards and scholarships, including the Barbe Family Scholarship and the Mary Vanier KSU Family Scholarship.
Moore has demonstrated her commitment to K-State and the college through her mentoring of incoming College of Business students, her many contributions to external and internal philanthropy efforts of the organizations that she has served, and her success as a high-achieving student.