September 29, 2021
K-State Fighting for a Cure shirts and hats sold at Union Sept. 30, Oct. 7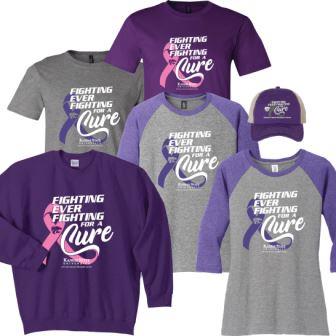 Get your Fighting for a Cure shirt or hat and unite in wearing it Oct. 16, K-State's eighth annual Fighting for a Cure Day, in honor of the K-State family's cancer survivors and researchers. Proceeds support K-State's Johnson Cancer Research Center.
The K-State Cancer Fighters student organization will sell the shirts from 11 a.m. to 1 p.m. Thursday, Sept. 30, and Thursday, Oct. 7, at the K-State Student Union. Shirt prices range from $10 for retro styles to $25, $30 and $32 for the 2021 short-sleeve and baseball T-shirts and sweatshirts.
Shirts are also available for purchase online, at the center, and at partnering Manhattan stores: 1419 Mercantile, 3039 Anderson Ave.; G. Thomas Jewelers, 419 Poyntz Ave.; and Yee Haw Country Outfitters, 431 Poyntz Ave.
The Johnson Cancer Research Center's faculty and student award programs are made possible by private donations.