July 21, 2021
Medical laboratory sciences student receives nationally competitive Watson Scholarship
Submitted by Gayla Adams-Wright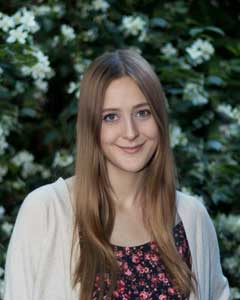 Adara Warner, medical laboratory science student in the College of Arts and Sciences at Kansas State University, was selected as a recipient of the Watson Scholarship, a competitive Alpha Mu Tau Fraternity undergraduate award.
Only 18 students were selected from a nationwide pool of medical laboratory science degree program applicants. The mission of Alpha Mu Tau is to recognize those who have made outstanding professional contributions to the field of clinical laboratory science and to provide scholarships in support of educational endeavors.
Warner, Belleville, is attending North Kansas City Hospital in Kansas City and will complete 46 weeks of clinical training. Upon completion, she is eligible to take the national exam to become a certified medical laboratory scientist.
"Warner is a hardworking and highly motivated student who is excelling in our program," said Marisa James, the medical laboratory science degree director at North Kansas City Hospital.
Warner was an exemplary student in the Division of Biology. She was recognized with several honors including the Most Promising Student Award, which is based on academic performance, activities and achievements. From 2019-2021, Warner conducted research in the genetics laboratory of Kathrin Schrick, where she studied specific proteins that regulate gene expression. Her research project was funded through a K-INBRE Scholarship and an Undergraduate Research Award from the Johnson Cancer Research Center. She received an Outstanding Poster Award at the annual K-INBRE Conference in Wichita in 2020, and last spring she participated in the K-State Undergraduate Research Showcase.
Upon graduation, Warner's goal is to become a supervisor of a clinical laboratory. She is particularly interested in microbiology, pathology and the microscopic world, which has a substantial impact on our lives and the environment. Long term, she is aiming for medical school and believes that a career in medical laboratory science, as well as her research experience, will provide an excellent foundation.