May 7, 2021
Solar decathlon team takes part in national competition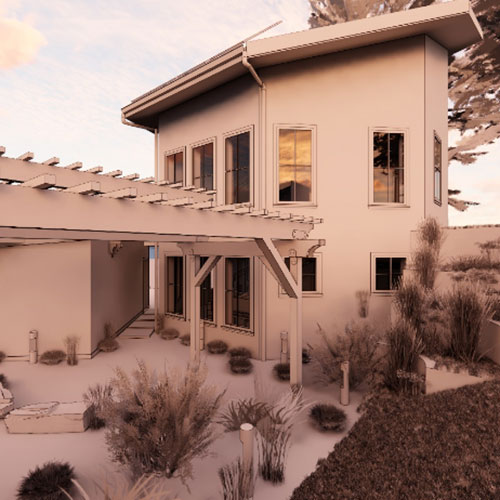 A multidisciplinary team of K-State students from engineering, architecture and business was selected to compete as a finalist in the virtual U.S. Department of Energy Solar Decathlon 2021 Design Challenge April 17.
The team presented its project, "Carbon Cottage — A Diamond in the Rough" to a panel of industry leaders following collaboration on the design of a high-performance, suburban single-family housing project that was judged on the following 10 components: architecture, engineering, market analysis, durability and resilience, embodied environmental impact, integrated performance, occupant experience, comfort and environmental quality, energy performance and presentation.
In preparation for the competition, all team members were required to complete building science educational video modules produced by the DOE. Members performed a market analysis on the proposed project site in the heart of coal country, Charleston, West Virginia. The home was designed with passive solar features and efficient use of space. Mechanical, electrical and plumbing systems were designed to minimize energy use, harvest rainwater and produce solar energy to achieve net-zero energy status. Construction techniques and materials were researched and analyzed to minimize waste, keep costs down and produce a resilient structure.
"The solar decathlon competition was extremely valuable for anyone interested in sustainability as it allowed students from a variety of colleges to collaborate and solve real-world issues while learning sustainable practices to combat these issues," said Nick Kalny, senior in architectural engineering and team president. "I found value in what I learned as well as in the leadership experience offered."
Other team members contributing to the project were Dani Ahern and Levi Johnson, architectural engineering; Ryder McAlexander and Ty Miller, construction science and management; Brett Lafleur, Sydney Tucker, Laura Gillum and Alicia Thurston, interior design; and Luke Hafner, accounting and finance.
Paul Karr, assistant professor, and D. Craig and Dalene D. Nelson — Carl and Mary Ice Cornerstone teaching scholar in the GE Johnson Department of Architectural Engineering and Construction Science, served as the team's faculty adviser.