May 4, 2021
Mechanical and nuclear engineering hosts spring/summer 2021 Graduating Senior and Awards Celebration
The Alan Levin Department of Mechanical and Nuclear Engineering hosted its graduating senior party and awards celebration for spring/summer 2021 at Frank Anneberg Park on April 29.
Each semester the department recognizes Outstanding Seniors, Most Outstanding Senior, and Leadership and Service awards. Mechanical and nuclear engineering faculty nominate and vote on graduating seniors who they deem outstanding with the Most Outstanding Senior Award given to the student who received the most votes. The Leadership and Service Award is given by the department head to a student who demonstrated notable leadership and service to the department. This year, two students received the honor.
Also at the ceremony, two graduating Mechanical and Nuclear Engineering Ambassadors were recognized for their work with the department, Braeden Ingold and Anthony Lopez. They have given departmental tours to prospective students and assist with other department events. They are assets to the department and will be greatly missed.
Congratulations to all mechanical and nuclear engineering graduates, nominated outstanding students and the award winners.
Outstanding Seniors:
• Emilee Agnew
• Kaitlyn Smallfoot
• Dylan Kruep
• Jeremy Dold
Most Outstanding Senior:
• Braeden Ingold
Leadership and Service Award:
• Nicholas Higgs
• Nicholas Vogel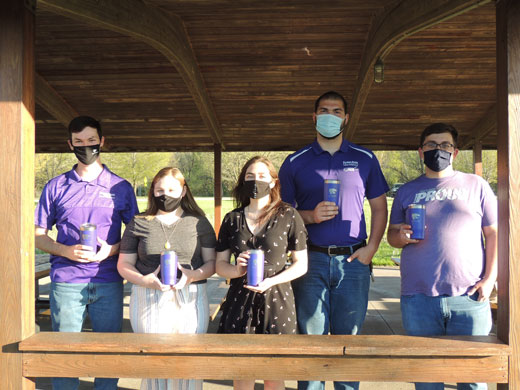 Braeden Ingold, Emilee Agnew, Kaitlyn Smallfoot, Jeremy Dold and Dylan Kruep.
Not pictured: Nicholas Higgs and Nicholas Vogel.