March 22, 2021
Author L.L. McKinney to read from her work via Zoom at 3:30 p.m. Friday, March 26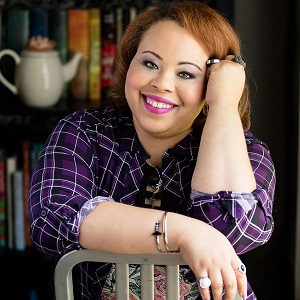 On Friday, March 26, author L.L. McKinney will read from her work at 3:30 p.m. via Zoom.
Registration is free but required at tinyurl.com/mckinneykstate.
Named one of The Root's 100 most influential African Americans of 2020, Leatrice "Elle" McKinney, writing as L.L. McKinney, is a writer and a poet. She is an advocate for equality and inclusion in publishing, often through the hashtags #PublishingPaidMe and #WhatWoCWritersHear, and is active in the children's and young adult literature communities.
McKinney's works include the best-selling urban fantasy novels "A Blade So Black" in 2018 and "A Dream So Dark" in 2019, as well as the graphic novel "Nubia: Real One" from DC in 2021 and Marvel's "Black Widow: Bad Blood" in 2020.
McKinney is also a self-described gamer and Blerd. She currently lives in Kansas City.
"L.L. McKinney has reinvented Lewis Carroll's 'Alice' for the Black Lives Matter era. Fans of Carroll and YA should check out 'A Blade So Black' and 'A Dream So Dark,' both of which feature an ass-kicking African American Alice from Atlanta navigating the Nightmares of Wonderland. I'm excited to hear her read from and talk about her work," said Phil Nel, university distinguished professor of English and children's literature.
For more information about McKinney's work, visit llmckinney.com/.
The reading is sponsored by the Department of English in the College of Arts and Sciences and SGA fine arts fees.