August 20, 2020
Veterinary Medicine appoints Sanderson as new W.S. and E.C. Jones chair of clinical epidemiology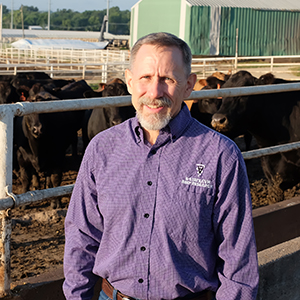 An analysis of data has led the Kansas State University College of Veterinary Medicine to select Mike Sanderson as the newest holder of the W.S. and E.C Jones Departmental Chair of Clinical Epidemiology.

"I grew up around beef cattle and always enjoyed the production system," Sanderson said. "I was in private practice five years, and realized in working with beef herds that I lacked some of the skills I really needed to manage data and be able to better understand causes of disease and production loss."

Sanderson had earned a Doctor of Veterinary Medicine at Colorado State University in 1988 and, after practice, attended graduate school at Washington State University to obtain more training in epidemiology. He completed his master's degree in 1995 and became a diplomate in the Epidemiology Specialty of the American College of Veterinary Preventive Medicine in 2004.

"I focused on epidemiology and data — how to analyze data and how to model disease and production systems — to try and make better decisions in production enterprises," Sanderson said.

After graduate school, Sanderson was hired at K-State.

"I started working in clinical sciences as a beef cattle production specialist, along with general food animal clinics with students while also having something of a research appointment," Sanderson said. "Then in 2004, I transitioned to a predominantly research appointment."

Dean Bonnie Rush said Sanderson met all criteria established by the donor family for awarding the W.S. and E.C Jones chair.

"This five-year, renewable chair is designated in our college for an epidemiologist who is actively engaged in hypothesis-driven livestock research and training of graduate students," Rush said. "He is well-respected nationally and internationally in the field of veterinary epidemiology through research collaborations and invited presentations. Dr. Sanderson was selected earlier this year as the recipient of the Zoetis Excellence in Research Award. The quality of his work was a perfect fit to match donor intent."

Sanderson's focus on beef is also a good fit under the designation of the Jones chair, which was established in 1987. The chair helps honor the memory of a pair of brothers who raised cattle near Emporia Kansas: Walter S. and Evan "Evie" C. Jones. The two brothers died in 1953 and income from their estate was to be used for providing medical assistance for needy children who reside in Lyon, Coffey or Osage counties. Later, education benefits were added as part of the mission of the Walter S. Jones and Evan C. Jones Foundation.

Now a professor in the diagnostic medicine and pathobiology department, Sanderson also serves as an associate director of the college's Center for Outcomes Research and Epidemiology, led by David Renter.

"We use large datasets from commercial feedlot operations to help producers better understand the factors responsible for driving high or low morbidity rates in feedlot cattle," Sanderson said. "We are constantly working to develop better data streams from cow-calf all the way to feedlot so we can understand risks and make better health, welfare and production decisions."

Despite the COVID-19 pandemic, Sanderson and the Center for Outcomes Research and Epidemiology group have been able to continue their work.

"A great deal of our work in collecting and analyzing data, as well as working with grad students, hasn't really changed," Sanderson said. "We can send data electronically and we perform a great deal of our work on a computer. COVID-19 has slowed up a couple of clinical trials, but mostly we've been able to continue working with data, just like we always have."

As an epidemiologist, Sanderson's work is focused on infectious diseases that impact livestock. His work includes modeling of disease outbreaks.

"I also work a lot on foot and mouth disease, modeling outbreaks and how to manage them, if indeed foot-and-mouth disease was introduced to the country," Sanderson said. "We look for the best ways to manage both the outbreak and maintain business continuity for livestock operations in general, but beef in particular."