January 23, 2013
A letter from A.D. John Currie: Updates from the department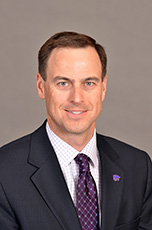 Good morning, K-State Nation,

Monday's holiday honoring the life and legacy of Dr. Martin Luther King Jr. has special significance for K-State. As most K-Staters are aware, on Jan. 19, 1968, Ahearn Field House was the site of one of Dr. King's last campus addresses prior to his assassination in Memphis.

Since arriving in Manhattan I've also learned that it was on the K-State football team that Harold Robinson in 1949 became the first African-American in the Big Seven Conference to receive an athletic scholarship, while Manhattan native Earl Woods, the late father of professional golfer Tiger Woods, later became the first African-American baseball player in the conference. Click to read an excellent article from K-State's Division of Communications and Marketing about K-State's earliest African-American graduates.

This year marks the 50th anniversary of Dr. King's "I Have a Dream" speech, and K-State is proud to have the most diverse student population in our history as well as the highest African-American student population of any four-year institution in the state of Kansas.

K-State's office of multicultural programs and diversity, led by Dr. Myra Gordon, provides terrific leadership in building an inclusive campus climate that fosters mutual understanding among diverse groups. Click for more information on the university's multicultural programs.

Here are a few updates from around the department.

One more glance back at the Fiesta Bowl trip
Among the 40,000-plus members of the K-State family who traveled to Arizona for the Tostitos Fiesta Bowl were our awesome Pride of Wildcat Land Band, Classy Cats and cheerleaders. I've received a number of wonderful notes from them over the last few weeks. Here is an excerpt from the note sent to me by Nathan Cottingham, a fifth-year senior band member:

"It sure means a lot to a simple trombone player from the Wichita area that the athletics department at a major university would be so willing to help get us to such a great game, so that we could have the honor and PRIDE of representing said university the best way that we know how. Thank you so much for your support."

We appreciate everyone that works to make K-State such a special and unique place! Thank you!

Kynard Recognized at Kansas Board of Regents Meeting
I had the privilege of accompanying Olympic silver medalist Erik Kynard to Topeka last week as he was introduced at January's Kansas Board of Regents meeting. We are so proud of what Erik has accomplished and how he has represented K-State and are even more proud that he has returned to school to finish his degree and continue his athletic career as a Wildcat. Click for a full recap of our visit to Topeka. This past weekend Erik cleared 7-06.00 to set an NCAA standard and meet record — good luck to Erik and the rest of the track team this weekend as they travel to Ames, Iowa, for the Bill Bergen Invitational.

Lehning to Receive HOF Honor
Former Wildcat women's basketball superstar and current assistant coach Shalee Lehning will be recognized prior to our Feb. 2 game against KU as a member of the Kansas State High School Activities Association's (KSHSAA) 2013 Hall of Fame Class. Congrats to Shalee. Click for the full release.

Upcoming Events
Tonight Coach Patterson's women's basketball team returns to Bramlage for a Big 12 tilt vs. Oklahoma State, tipping off at 7 p.m. Later this week Coach Rovelto and our nationally-ranked track squads will take a strong contingent to Ames, Iowa, while Coach Bietau and the tennis team will travel to Boston this weekend and battle William and Mary and Harvard. Good luck to all of our teams in action this weekend!
Go Cats!

John Currie