January 11, 2013
A letter from A.D. John Currie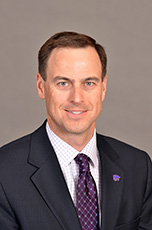 Good morning, K-State Nation.
Happy New Year! I hope everyone had an enjoyable holiday season and is off and running with positive New Year's resolutions for 2013! After arriving back in Manhattan last Friday from Phoenix, we put in a full and triumphant day at Bramlage Coliseum on Saturday with a great men's victory over then-No. 22 Oklahoma State followed by a thrilling buzzer-beating win for the women over TCU. Both games featured spirited crowd support, including a valiant alumni pep band, filling in for the Pride students who were still on their journey back from the Fiesta Bowl after a side trip to the Grand Canyon.
Before I go any further let me again thank the entire Wildcat Nation for a tremendous turnout in Arizona for the Tostitos Fiesta Bowl. With an estimated 20,000-plus in attendance at our pep rally inside Chase Field and more than 40,000 fans at University of Phoenix Stadium for the game, you once again made a statement to the nation that K-State fans are the best in college football. The entire Fiesta Bowl staff, in addition to national and local Arizona media that attended both events, were blown away with the passion of our fans and how the Valley of the Sun was painted purple! Our alumni association, led by Amy Button Renz, once again set the national standard!

It was awesome to have ABC television star and K-State grad Eric Stonestreet in attendance at our pep rally, and I enjoyed hearing President Schulz's remarks on the progress toward K-State 2025. President Schulz also debuted an awesome video on upcoming campus improvements. Click to see the video and learn more about these exciting steps forward as K-State heads toward the ranks of the Top 50 public universities.
We appreciate the entire Fiesta Bowl staff, led by Chairman Steve Whiteman, Executive Director Robert Shelton and many other team hosts and volunteers, for providing a first-class event for our team and travel party. The 2012 football season was one of the most successful and enjoyable in school history, and all of Wildcat Nation played a pivotal role in K-State capturing its second Big 12 Football Championship and BCS bowl berth. Andale native and starting center B.J. Finney said it best at the pep rally: "Coach has always told us everything is about what we do, how we execute and how strong we believe. This year we believed as a team, you believed as fans and together we believed as a family."
Remember that K-State now trails only Texas and Oklahoma in Big 12 football championships and Big 12 victories among the 10 members of our conference. With an extremely tough schedule, Coach Snyder's charges set a school record with six victories this year over teams ranked in the Top 25 and achieved an 8-2 record against bowl-eligible teams. Even though we bid farewell to 27 tremendous seniors (17 of whom earned their degrees before the bowl game!), returning leaders like B.J., Ty Zimmerman, Tyler Lockett and Tre Walker will help Coach Snyder and the staff continue to build on the momentum of the K-State Nation! I can't wait for Aug. 31.
Pack the House on Saturday
Coach Patterson and the 10-5 Wildcats return to Bramlage Saturday for a 3 p.m. Big 12 tussle with West Virginia. The game is the annual "Pack the House" matchup as we look to fill Bramlage for the third consecutive year. K-State has won the conference's "Pack the House" challenge in each of the last two seasons, so come out and help make it three in a row! All tickets to the contest are $1 and selected concession items will also be available for just $1 each. Click for more information and for a link to purchase tickets.

K-State puts 220 on Fall Big 12 Academic Honor Roll
While we root for our student athletes and teams to perform at a championship level on the playing field, we are even more proud of their accomplishments in the classroom and community. Wednesday, 220 of our student-athletes were recognized as members of the Big 12 Fall Commissioner's Honor for earning a 3.0 or higher GPA during the season. Of those 220 student athletes, 31 registered a perfect 4.0 this fall! We also had a total of 20 student athletes from our football, volleyball and cross country teams earn Academic All-Big 12 honors this fall. We are proud of all these student athletes and the commitment they have made to both academic and athletic excellence. Click to read Wednesday's press release.
Streaking 'Cats get ready for road trips to West Virginia and TCU
With the big home victory over then-No. 22 Oklahoma State, the 'Cats have moved up to No. 18 in this week's AP poll. This Saturday presents a tough road test at West Virginia in a 12:30 p.m. Big 12 matchup against former Wildcat head coach Bob Huggins' Mountaineers. The game can be seen live across the Big 12 Network, and nationally on ESPN "Gameplan," while you can also listen to Wyatt and Stan on the K-State Sports Network and online at k-statesports.com. Congratulations are in order to Rodney McGruder on his third Big 12 Player of the Week accolade over the last five weeks after his performances against South Dakota and Oklahoma State. Rodney's incredible performance Saturday also earned him national accolades as ESPN's national player of the week.
For both our men's and women's teams Big 12 road trips present a special opportunity for our national alumni base to support the 'Cats in person. Although we do not have the ability to sell road basketball tickets out of our ticket office, we encourage you to contact the host school for ticket information. Remember, the Big 12 races are wide open — and road victories are precious and even just a few hundred purple-clad fans can help bolster our teams. Here is information for our first two Big 12 trips to West Virginia and next Wednesday's game at TCU — I hope to see you there!

Department staffers promoted
I am proud of the staff we have here at K-State and pleased to announce the promotions of two department staffers, both of whom are key members of our leadership team and well-respected by all of our staff members. Scott Garrett, who has done a terrific job leading our ticket and fan experience offices, has been named associate athletics director for ticketing and fan strategies, while Missy Heidrick is now senior director of development. Missy has been a key member of our Ahearn Fund staff and has been instrumental in the growth and development of the Ahearn Fund and National Leadership Circle. With 139 full-time staff members we have the smallest head-count in the Big 12 Conference, but just like our institutional heritage, I believe they work as hard and with as much maximum purpose and efficiency as any staff in the country.

Last night I had the fortunate opportunity to attend our annual track and field banquet. We simply have terrific student athletes from all over the country and world in Coach Rovelto's program. Thanks to the recently opened Basketball Training Facility, we have been able to dramatically upgrade the office space for track and field and cross country by moving the staff into the former men's basketball offices in Bramlage. Previously our eight-person staff shared three offices and a reception area in Ahearn Field House. Now cross country coach Mike Smith and our assistant coaches all have their own offices! It is great seeing the staff and student athletes more on a day-to-day basis. Currently there are 82 student athletes in our track and field and cross-country programs — 46 of whom made the Big 12 Commissioner's Honor Roll this fall — so these programs are a major percentage of our 458 overall K-State student-athletes. With the men ranked 22nd and women 35th in this week's national rankings, we wish the good luck as they continue indoor season action Thursday in Lawrence at the Jayhawk Challenge.
The 2012 year was packed with accomplishments and excitement, but we've turned the page and are ready to raise the bar in 2013. Thanks for what you do to help K-State Athletics continue to make tremendous across-the-board progress towards our vision of a model intercollegiate athletics program.

Let's plan to "Pack the House" Saturday at Bramlage!
Go Cats!