April 29, 2020
National honors for Lowe, Dowell cap successful year for K-State Speech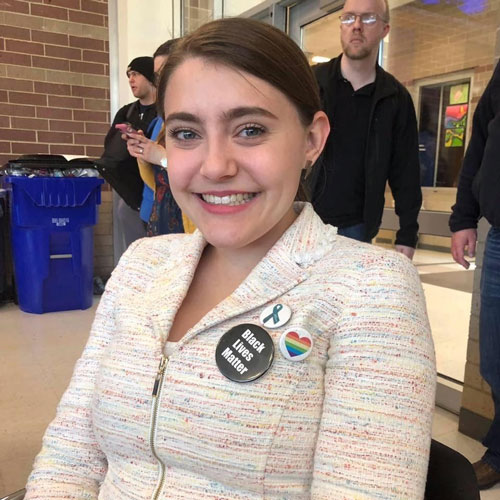 Despite having its season ended prematurely because of the COVID-19 pandemic, the K-State Speech Team, a registered departmental student organization, capped another successful season for both the team and its individual members.
Every full-time traveling member of the team qualified for the American Forensics Association-National Individual Events Tournament, or AFA-NIET. The team also exceeded its goals by averaging more than 4.0 entries per student. Senior Nathan Dowell led the way, qualifying for six events.
The AFA-NIET also announced its 2020 All-American Team, which included Dowell. Dowell was honored for his success in competitions — two-time national finalist, national Impromptu champion in 2019 — in the classroom, and in the community — chiefly volunteer work at an aviation museum. This caps a wonderful forensics career for Dowell as he prepares to begin his work on a doctorate in history at Western Michigan University in the fall.
The AFA-NIET also announced that K-State Speech Team junior Marley Lowe as one of two student representatives on the national committee. Out of eight regional student positions, only two are elected to serve as national representatives. Lowe is the first K-State student to be elected to this office.
The other two K-State Speech seniors, Karly Kinsey and Jessica Pietrowski, are also moving on to successful post-forensics careers. Kinsey earned her individual sweepstakes status despite only being able to compete in the fall. This spring, she has been doing her professional semester of student teaching at a Kansas City high school helping out with both the theatre and forensics programs. This fall she will be starting as the middle school drama director in Liberty, Missouri.
Pietrowski also qualified enough events to be eligible for individual sweeps at nationals. Pietrowski will be entering the science writing master's program with the Temple University English Department. Since Pietrowski lived in Pennsylvania before her family moved to Kansas, she said she's very excited to be going back to her childhood home.
Although not having the full nationals experience was disappointing, our students have done well in forensics, in the classroom and in life because they have always embraced the idea that tournaments, even nationals, are a part of the greater educational process offered by K-State Speech.
K-State Speech thanks every team member who competed and to the coaches, assistant director Darren Epping, and GTA coaches Michelle Styrpejko and Cale Morrow, for their work, time, good humor and passion. K-State Speech is looking forward to the 2020-2021 season and getting back on the road as soon as it is safe to do so.