April 16, 2020
Architecture professor awarded residency at prestigious I-Park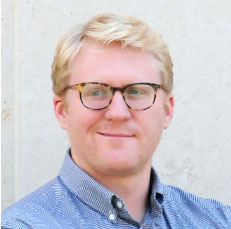 Grant Alford, assistant professor of architecture in the College of Architecture, Planning & Design, or APDesign, has been awarded a 2020 artist-in-residence at the I-Park Foundation in East Haddam, Connecticut. The residency is a fully funded four-week stay at the foundation's property in Connecticut where they provide room and board and dedicated studio space. Due to the COVID-19 pandemic, the residency will take place in summer 2021.
I-Park is both an open-air and a closed-studio laboratory for individual creative pursuits in the fields of music composition/sound art, the visual arts, architecture, moving image, creative writing and landscape/garden/ecological design. From insights developed in the laboratory setting, it also develops and sponsors specially themed cross-disciplinary projects of cultural significance and brings these discoveries to light in the public domain.
Alford's project proposal, "New Forms and Non-form for Digital Architectural Drawing," will produce a series of drawings exploring techniques of digital painting as architectural drawing.
I-Park supports these individual and collaborative investigations through its international artists-in-residence program, the aesthetic engagement of its natural and built environments and with on-site exhibitions, performances and collegial exchanges.
Since its founding in 2001, I-Park has sponsored more than 900 fully-funded residencies.
Alford teaches design studio at various levels as well as seminars on digital culture in architecture. He is an NCARB-certified architect registered in Texas. He has worked at award-winning firms in New York, New Jersey and Texas, and his independent work has been recognized nationally.
Alford's current research interests include rhetoric and meaning in architectural form and new media in two-dimensional architectural representation. Geometry, projected drawing and diagramming also figure largely in his work and teaching.
He graduated with honors from Texas Tech University in 2005 and earned his professional Master of Architecture from Princeton University in 2008.