February 28, 2020
College of Veterinary Medicine to host Phi Zeta Research Day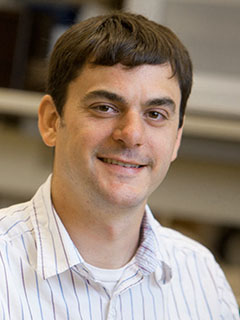 The College of Veterinary Medicine and Sigma Chapter of the Phi Zeta Veterinary Honors Society invites the university community to attend its annual Research Day, from noon to 5:30 p.m. Tuesday, March 3.
The event will start with lunch and the Kenneth D. Olson Lectureship, featuring a keynote address at noon by Adam Boyko, associate professor in biomedical sciences at the Cornell University College of Veterinary Medicine. The title of the lecture is "Dog DNA: a Journey of Discovery and a Quest for Healthier Dogs." Boyko's research focuses on genomic investigation of dogs as a model of genetic disease and evolutionary genetics. One aspect of this work is understanding the evolution and genetics of village dogs, the semi-feral pariah dogs found in much of the world today.
The afternoon will continue with oral abstract presentations by undergraduate, graduate and postgraduate researchers affiliated with the college. The formal poster session and mid-afternoon refreshments will occur between 2:30 and 3:30 p.m. Evening refreshments will be served at 5 p.m., followed by the recognition and awards ceremony.
Phi Zeta Research Day is an opportunity to gain insight into the breadth and impact of the research taking place at the College of Veterinary Medicine, as well as meet with the researchers themselves.
Read more information and see a schedule of events on the Sigma Chapter of Phi Zeta's website.