February 3, 2020
APDesign students move on to semifinals in NEXT Competition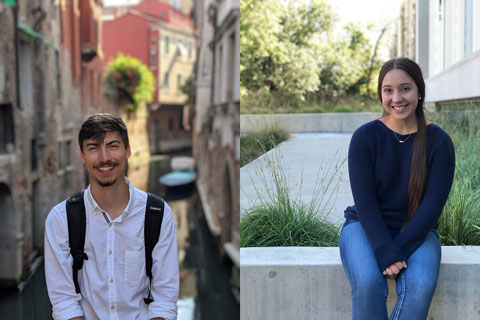 Reid Thornburg, Lenexa, and Chloe Cudney, Marysville, both fourth-year graduate students in interior architecture & product design in the College of Architecture, Planning & Design, or APDesign, are semifinalists in the 2020 NEXT competition sponsored by Steelcase.
More than 1,000 students from 76 programs across the country participated in the competition. Five semifinalists and five honorable mentions were selected from this group. The five semifinalists are invited to a three-day event before a panel of judges at the Steelcase headquarters in Grand Rapids, Michigan. Students will present their projects to the judges, defend their concepts, and communicate their design decisions.
"It's extraordinary that both of our entries into this national competition were selected from over 1,000 students to be semifinalists," said Nathan Howe, IAPD department head. "I could not be prouder of Chloe and Reid. They represent the quality of student, curriculum and faculty that we have in our program."
Steelcase challenged the students to design a multifloor 11,600-square-foot learning space to support changing behaviors and expectations in a learning environment. Michelle Wempe, professor of practice in the department of interior architecture & product design, led the students in this studio.
The students' project, the "NEXT Hub," is a place that allows members of the community in Washington, D.C., the freedom and resources to come and learn new things, challenge themselves, network with others, and achieve their goals. View Cudney's design and Thornburg's design.
"Steelcase is to be commended for the NEXT project, a great teaching tool," Wempe said. "This year's project was programmatically and spatially complex. Chloe's and Reid's projects stand out for their clarity of concepts and three-dimensional solutions, wrapping the vertical circulation seamlessly into their solutions by using the stair to house a portion of the program."
"On behalf of Steelcase and all of the judges, we want to thank all the participants again," said Jerry Holmes, NEXT development team. "We were impressed with the hard work and inspired by what the future holds for the design profession. For the students, thank you for challenging yourselves with this project… we want to wish all of you the best in your careers and feel confident that the future of design is very bright! The finalists will be flown to the Steelcase Headquarters in Grand Rapids, Michigan, in February and they will present their projects to the panel of judges where an overall winner will be chosen. The winner will be announced on Friday, Feb. 14."
Steelcase offers a wide range of architecture, furniture and technology products and services designed to help people reach their full potential. Their comprehensive portfolio is anchored by three core brands: Steelcase, Coalesse and Turnstone. Together with their partners, they design spaces to help people work, learn and heal.