December 18, 2019
University's general counsel announces upcoming retirement
Submitted by Communications and Marketing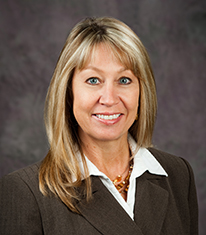 Kansas State University General Counsel Cheryl Strecker has announced her retirement, effective in April 2020.

Strecker has been a member of the university's legal team since 1993, including the last 10 years as general counsel and leader of the Office of General Counsel. Her work has contributed to the office's success rate of 99% wins in the litigation of court and administrative agency cases in the last 29 years.

Under Strecker's leadership, the Office of General Counsel provides legal advice, assistance and representation to all university campuses through its administrators and employees who are acting on the university's behalf. This work includes legal research, client counseling, internal dispute resolution, and litigation before state and federal courts and regulatory agencies. The office also provides policy review and development, and contract review and negotiation. In addition, Strecker and her staff advise and represent university administrators on such issues as discrimination, constitutional rights, tort liability, intellectual property, immigration, real estate, tax and other legal matters.

"Cheryl is an exceptional general counsel and has done an extraordinary job for this university," said K-State President Richard Myers. "She is detail-oriented in her work and has always placed the best interest of the university first in everything she has done. Cheryl has been an excellent leader in managing the Office of General Counsel. We thank her for her dedicated service to Kansas State University."

While the Office of General Counsel has been highly successful in its litigation success, Strecker said the most efficient and least costly way to handle legal matters is through education and prevention, which have been the office's primary mission under her direction.

"Although our litigation outcomes are impressive and capable of measurement and visibility, of even greater value and importance is the preventive work our office provides behind the scenes," Strecker said. "Our primary function is to counsel and provide strategies for our clients in order to ensure compliance with all applicable laws, regulations and policies, and to help decision-makers avoid errors and the resulting legal liability, administrative burdens and public relations costs."

Strecker is a K-State alumna, earning a bachelor's degree in interdisciplinary social science and graduating cum laude in 1984. She earned her Juris Doctor in 1987 from the Cornell University School of Law where she was a recipient of the Cornell Law Scholarship and Charles K. Burdick Scholarship. She also served at the Cornell Legal Aid Clinic. After serving a year as a litigation attorney with a law firm in Chicago and four years as a staff attorney for the Illinois Department of Corrections, Strecker returned to K-State to serve as assistant general counsel in 1993. She was promoted to associate general counsel in 1999, became senior associate general counsel in 2001 and became general counsel in 2009. She holds bar admissions to the U.S. Supreme Court, U.S. Court of Appeals for the 10th Circuit, U.S. District Court for the District of Kansas and the state of Kansas.

Among Strecker's many accomplishments include developing and implementing several initiatives to improve the delivery of legal services, including the Executive Leadership Legal Education Series for top leadership such as the President's Cabinet and the Deans Council; the Legal Issues Seminars for Administrators, including Cabinet members, deans, directors and department heads; an outreach program to new administrators; and other services to help administrators, faculty, staff and students learn about university policies and their effects.

Strecker said she believes one of her most important responsibilities as in-house counsel at a large public university is in assisting the institution in ensuring that its policies and actions uphold the constitutional rights of individuals.

"I am particularly proud of K-State's record on free speech and due process," she said. K-State is among only 11% of universities in the U.S. and the only one in Kansas to earn the top green light rating from the Foundation for Individual Rights in Education for having policies that respect free speech rights.

Details on a search for Strecker's successor will be announced soon.