October 31, 2012
'Raisin' the bar: K-State baker chosen as finalist in national competition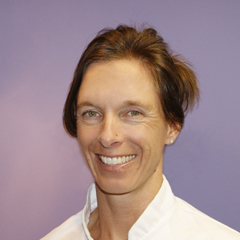 Courtney Markle, food service supervisor senior for housing and dining services at Kansas State University, was chosen as a finalist in a recent national baking competition sponsored by the California Raisin Marketing Board.
Markle developed a recipe for golden raisin and candied bacon pretzel rolls to enter into the fifth annual America's Best Raisin Bread contest, the finals took place Oct. 12-13 at the American Institute of Baking in Manhattan.
Thirty-six finalists were chosen from more than 100 student and professional entrants and were invited to bake their recipes for a panel of judges. Contestants competed in three categories: artisan, commercial and breakfast. Their formulas were judged on taste, appearance, originality and value. Entries were required to contain a specified proportion of raisins to dry flour weight.
Though Markle's winning recipe was not chosen as one of the 12 grand prize winners, the honor of her selection as a finalist had its own benefits.
"Courtney is a superb baker and it is wonderful to see her creativity and skill rewarded with the opportunity to bake alongside some of the best-of-the-best bakers from throughout the country," said Mary Molt, assistant director of housing and dining services and a judge at the competition. "Competing in the well-established California Raisin Marketing Board's annual contest was indeed a special day for Courtney and a proud moment for housing and dining services."
Markle expressed gratitude for the support from Molt and the university in helping her gain new experiences that will assist her in her position as a baker at two of K-State's Jardine Marketplace establishments: CornerStone Coffee and Bakery and JP's Sports Grill.
"I was very impressed with the skill and professionalism of the other contestants, she said. "I was one of the least experienced, in terms of formal education and competition experience, but the judges and the other contestants were supportive and the general atmosphere, while competitive, lent itself to information sharing and networking."
The contest was created to advance the marketing board's efforts to support and promote the increased use of California-raised raisins and sponsor nutrition, crop production and market research.
Here's Markle's recipe:
Golden Raisin and Candied Bacon Pretzel Roll, yields about 9 rolls
Inspiration: The combined popularity of pretzel rolls and bacon inspired me to develop a bread that incorporated the sweetness of raisins with the salty-savory flavor of bacon. Pair with smoked turkey or curried chicken salad. Sliced vertically and toasted the bread can be served with a variety of savory spreads.
Candied Bacon
Ingredients:
2 ½ oz. Bacon
2 oz. Brown Sugar
1 ¾ oz. Pure Maple Syrup
Directions:
Toss bacon with brown sugar until well coated.
Place strips on a greased wire rack set over a foil-lined baking sheet.
Spoon maple syrup evenly over each slice.
Sprinkle each slice with more brown sugar.
Bake 350 F for about 20 minutes, rotating pan halfway through.
Cool. Wipe off any extra grease. Break into ½-inch pieces.
Hold at room temperature for later use.
Raisins
Ingredients:
8 oz. apple cider
10 ½ oz. golden eaisins
Directions:
Pour apple cider over raisins.
Pour apple cider over raisins.
Heat in microwave on high for 2 minutes.
Soak at room temperature for 15 minutes. Drain thoroughly.
Spread onto paper towels and blot out any excess moisture. The drier the raisins are, the easier it will be to incorporate them.
Hold at room temperature for later use.
Dough
Ingredients:
10 ¾ oz. water (80 degrees)
1 ¾ oz. butter, unsalted
1 lb 5 oz. flour, all purpose
3/8 oz. salt
3/8 oz. sugar
¼ oz. yeast, instant
Cornmeal, finely ground
Egg wash
Pretzel salt
Directions:
Melt butter in microwave.
Combine water and butter in standing mixer.
Add flour, salt, and sugar. Sprinkle in yeast.
Using dough hook, mix 1 minute on low speed. Increase to medium speed and mix for approximately 5 minutes, until smooth and elastic.
Shape into round and place in greased bowl. Cover with plastic wrap and rest dough for 1 hour in warm, humid environment. (For home bakers, you can create a make-shift proofer in your oven by boil a pan of water and place on the lower rack of your oven.)
Place proofed dough back in mixer and fold in raisins and candied bacon reserved from earlier steps.
Divide dough into roughly 5 ¼ oz. portions.
Cover and proof at room temperature for 20 minutes.
Form into rounds, about 1 inch high and 3 inches in diameter. Cover and proof at room temperature for 30 minutes.
In a large diameter pan mix 6 quarts water with 9 oz. baking soda.
Bring to a boil.
Working with half of the rolls at a time, dip rolls 30 seconds each side beginning with bottom-side up.
Take out of water and drain on cooling rack 5 minutes.
Transfer to greased, parchment-lined, cornmeal-sprinkled pans and allow to rest for 45 minutes.
Whisk 2 egg yolks with 1 tablespoon water. Brush rolls with egg wash and sprinkle with a pinch of pretzel salt. With razor blade, slash top with cross.
Bake at 350 F for 20-22 minutes, rotating pans half way through. Rolls should be a deep golden brown and the internal temperature should register 190-195 F.