September 6, 2019
'Hidden' road connects K-State's past with the future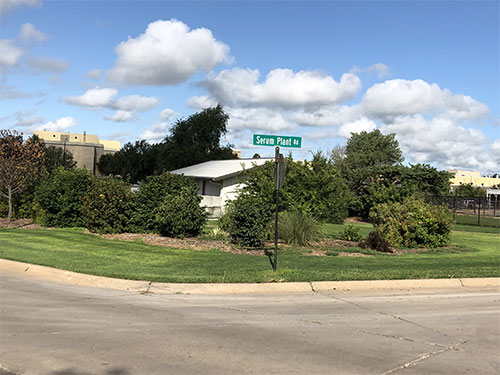 A new sign on the K-State campus helps commemorate a piece of veterinary medical history that dates back more than 100 years.
A standard green and white street sign has been installed east of Coles Hall and denotes a small and obscure stretch of road that gracefully winds north from Jardine Road and up the hill behind the Equine Performance Testing Center. To the south, the road provides an entrance to parking and loading areas behind Call Hall and Weber Arena.
The road originally led to a facility that was part of the College of Veterinary Medicine known as the Serum Plant.
"The Serum Plant was established more than 100 years ago and used to produce anti-hog cholera, or classical swine fever serum until 1948," explained Jishu Shi, professor of immunology and director of the U.S.-China Center for Animal Health. "It was an important part of the early days of veterinary medicine in Kansas and our veterinary school."
The street name is eponymous with the Serum Plant.
"Serum Plant Road crossed the K-State campus site for the National Bio and Agro-defense Facility," said Ron Trewyn, Kansas State University's full-time liaison to the National Bio and Agro-defense Facility. "The fact that production of hog cholera antisera began on that road in 1908 is serendipitous, since the disease is now known as classical swine fever, which is on the NBAF research list. Thus, K-State has been doing NBAF research on the NBAF site for over 110 years and it continues today in the BRI."
Shi felt it was important to remind people about this part of the university's history, so he submitted a request and received quick help thanks to Jack Carlson, project manager in planning and larger projects, and others in facilities maintenance at the Division of Facilities.
"In my interactions with research funding agencies and other stakeholders of NBAF and the university, many people have a strong interest in knowing where the serum plant was," Shi said. "However, there was no street sign for the Serum Plant Road on campus. I would love to show our guests where the old serum plant was — the heart of CSF research at K-State 100 years ago — so the new street sign will be very helpful for us to show K-State pride in CSF research history."
Trewyn has included imagery of the sign as part of a Powerpoint slide on NBAF. Shi has also shared pictures of the new sign.
"Although the serum plant is no longer here anymore, the symbol — Serum Plant Road — has a new life and more meaning to K-State now," Shi said. "The NBAF campus is very close to or on where the old serum plant was. More importantly, researchers like me have begun to work on CSF in the last few years at K-State's Biosecurity Research Institute and are preparing for future CSF research in the NBAF building."
Shi said the Serum Plant's history has significance beyond K-State.
"This street sign will undoubtedly strengthen our reputation as an outstanding research institution for high consequence animal diseases such as CSF," Shi said. "It will ultimately help researchers like me to secure more research funding from federal and state agencies and animal health industry partners."