October 16, 2012
Annette Hernandez: Why I support the All-University Campaign
Submitted by Susan Wolf Berhow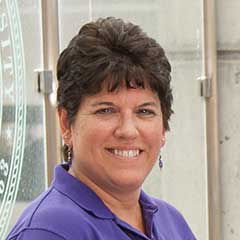 Giving to the All-University Campaign is a chance for all K-State faculty and staff to support the area of the university they care about most. For Annette Hernandez, an administrative specialist at K-State Salina's engineering technology department, it's the ability to choose that makes supporting the All-University Campaign worthwhile.
"It's a chance for faculty and staff to support areas that they feel passion about," she said. "I give to the Classified Opportunity Fund because I know that it goes back to classified staff. Anyway to help classified staff is a plus for me. We need to show that we support classified staff. They mean a great deal to the university."
Hernandez's support of the campaign isn't limited to giving. She also serves as co-chair of the campaign.
"If we each give a little, the impact would be huge. Even small gifts adds up," she said. "The campaign allows you to find one or more KSU Foundation funds that fit into your wants and needs for the university, whether it's Classified Senate, student clubs or the college you work for."
As of this week, 35 percent of K-State faculty and staff have made a gift to the campaign. Have you made your gift this year? To make your gift, visit our designation webpage to browse thousands of giving options.
Quick links: