October 12, 2012
K-State Wind Ensemble and Concert Band present a tribute to John Philip Sousa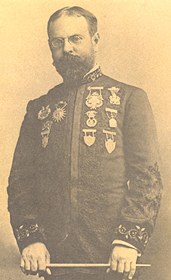 In collaboration with the Friends of the Libraries John Philip Sousa gala, the K-State Wind Ensemble and Concert Band will present a special Sousa concert at 3 p.m. Sunday, Oct. 14, in McCain Auditorium.
The bands will play some of the most well known works of John Phillip Sousa, famous for his patriotic and military marches. In 1931, Sousa wrote the "Wildcat March," which is still played by the Kansas State University Marching Band today. The ensemble and band are under the direction of Frank Tracz, professor of music and director of bands, and Don Linn, instructor of music and assistant director of bands.
The concert will feature Kansas State University faculty guests, including Craig Parker, professor of music, coronet soloist and Sousa scholar, and Karen Large, assistant professor of music and flute soloist. Special guest conductor will be Staff Sgt. Ryan Nowlin of the President's Own United States Marine Band. The bands will also feature a special performance with the University Choirs on Staff Sgt. Ryan Nowlin's new work for band and chorus titled "It Is Well."
Admission to this concert is free.