October 11, 2012
Marla Day to reveal 'Clues in the Calico'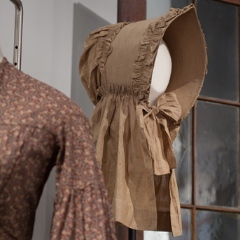 Marla Day, curator of the Historic Costume and Textile Museum in the College of Human Ecology, will lecture on "Clues in the Calico" at 5:30 p.m. Sunday, Oct. 14, at the Flint Hills Discovery Center.
The presentation is part of a series connected with the current exhibition called "Forces: The Shaping of Manhattan, Fort Riley and Kansas State University."
Day will tell some of the stories she learned about the garments in the exhibit. One is a linen prairie bonnet. Another is a cotton dress worn around 1850 by Elmira M. Beath, born in Vermont in 1834 and grandmother of Louisa Hattery Harden, who graduated from in human ecology in 1926.
She will also help participants learn to do a little detective research with their own vintage treasures.
Day is one of the curators of the special exhibit at the Manhattan center.