April 22, 2019
Biology faculty member publishes new edition of freshwater ecology textbook
Submitted by Division of Biology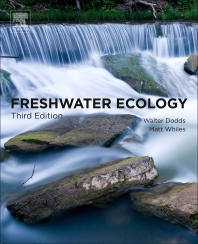 Walter Dodds, university distinguished professor of biology, and his co-author Matt Whiles, University of Florida, have published the third edition of their widely adopted textbook "Freshwater Ecology: Concepts and Environmental Applications of Limnology." The book will be available starting April 26.
Dodds was recently named an inaugural fellow of the Society for Freshwater Science for his contributions to freshwater science through research, education and outreach. His co-authored book has become a staple for freshwater biology courses across the nation.
The text covers everything from the basic chemical and physical properties of water, to the advanced and unifying concepts of community ecology, and ecosystem relationships found in continental waters. It includes key issues, including how to balance ecological and human health needs, GMOs, molecular tools, fracking, and other relevant recent topics influencing aquatic environments. It will be available in electronic and hard copies.