October 2, 2012
Emerging Terrain topic for 2012 Bryant Lecture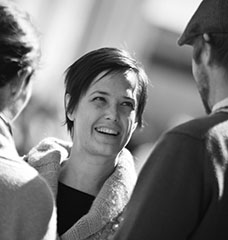 Anne Trumble, founder and executive director of Emerging Terrain, a nonprofit research and design collaborative based in Omaha, Neb., will deliver the annual Bryant Lecture at 4 p.m. Wednesday, Oct. 3, in the Little Theatre at the K-State Student Union. The lecture is free and all are welcome to attend.
Emerging Terrain operates with a mission of engaging the public about factors shaping the built environment by creating awareness, meaningful experiences, and vibrant places and spaces. They do this through innovative design projects and site-specific interventions intended to shift frames of reference. Emerging Terrain engages people – through exhibits, installations, paintings, feasts and more – to get them to take notice of and think about their environment.
Prior to founding Emerging Terrain, Trumble studied and practiced landscape architecture nationally and abroad. Most recently she was responsible for the design and management of West 125th Streetscape in Harlem with the New York City Economic Development Corporation, in addition to other streetscapes, green roofs, parks and plazas throughout New York City. From 2005-20007, she worked as an intern landscape architect for Phillips Farevaag Smallenberg Landscape Architects. In this position, Trumble worked on the 3D modeling of the City of Toronto for a joint park design with author Douglas Copeland.
Trumble earned a Masters of Landscape Architecture from the University of British Columbia in Vancouver, Canada. Trumble currently serves on the board of directors for Design Alliance Omaha and teaches multidisciplinary design studios at University of Nebraska-Lincoln and Columbia University.
The Lee A. Bryant Memorial Lectures on Art and Architecture honor 1970 architecture alumnus Lee Bryant who died of a stroke in 1981 at the age of 40. The lecture series is a living tribute to Bryant's passion for art and a fitting means for sharing with future generations of students his concern for the vital interaction of art and architecture.