March 5, 2019
91.9 KSDB FM wins three national awards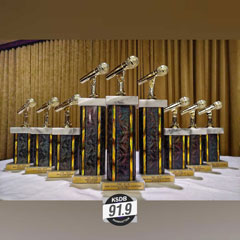 Student staff from K-State's college radio station recently returned from New York City with some new hardware in hand. KSDB staff received national awards from the Intercollegiate Broadcasting System Conference, at which entries from KSDB students were finalists in nine categories.
KSDB was first in the nation in the categories of Best Community News Coverage, Best Show Promotional Poster and Best Podcast.
The other six finalist categories that KSDB received trophies in were Best Press Release, Best Community Outreach Event, Best Promo Series, Best Liner/Sweeper, and two finalist entries in Best News Promotion.
The awards were judged by the Intercollegiate Broadcasting System, a national, nonprofit organization representing college radio since 1940.
KSDB broadcasts 24/7/365 on 91.9 FM, on applications for iOS and Android, online at ksdbfm.org, on campus cable 42.1, TuneIn, NextRadio and Amazon Alexa.