November 12, 2018
Celebrate Geography Awareness Week with two GIS workshops
Submitted by Sarah McGreer Hoyt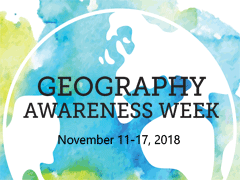 It's Geography Awareness Week 2018: Join Shawn Hutchinson, geographic information science professor, and Carol Sevin, science librarian, for two very special GIS workshops — no previous GIS experience necessary.
First, Hutchinson and Sevin present "The value of spatial thinking and GIS" from noon to 1 p.m. on Wednesday, Nov. 14, in 3114 College of Business Building.
They will provide an overview of GIS and its research applications. The workshop also will cover the processes of spatial thinking, learning GIS and understanding geospatial data. Don't miss this opportunity to learn through some enlightening illustrations and a live demo of an analysis using GIS.
Then, consider putting your knowledge of GIS into action with "How to become GIS proficient" from noon to 1 p.m. Thursday, Nov. 15, in 3114 College of Business Building.
Hutchinson and Sevin will discuss how K-Staters can find and access resources to accomplish their GIS goals. Participants are invited to bring ideas of how they might use GIS or how they've seen others use it in their field. Attendees also will learn about options for free online training as well as GIScience courses and certificates.
These workshops are presented in partnership with the Kansas Science Communication Initiative, the geography department, K-State Libraries and the K-State Graduate Student Council.
Questions? Contact Sevin at sevin@k-state.edu.